VietNamNet Bridge – Holding bidding for trash collection contracts is a positive step in theory for HCM City, but the city's administration has struggled to turn the idea into reality.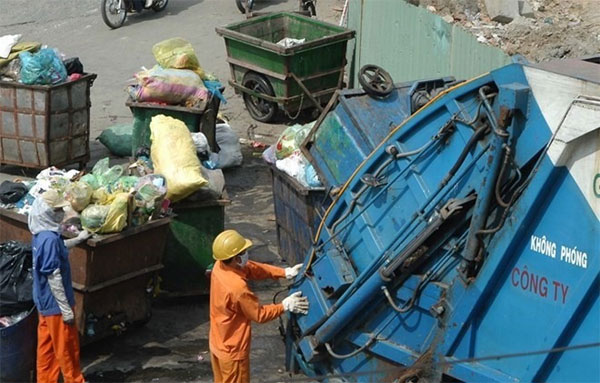 Workers of a environment company collect domestic waste. HCM City is still struggling in treating with domestic waste everday. – VNA/VNS Photo
To reduce environmental pollution and improve efficiency of garbage collection, all districts in HCM City were asked to open bids for contracts in May last year.
But only four out of 24 districts have selected trash collectors by bidding, namely No 12, Tan Phu, Binh Tan and Thu Duc, Tuoi Tre (Youth) newspaper reported.
Many districts have said they could not use bidding because they were embarrassed during the bidding process, due to a lack of guidance documents or a price frame.
According to the newspaper, by the end of 2017, the HCM City People's Committee issued principles for bidding and they were available from January 1 this year, meaning district authorities think they still need more time to prepare bidding documents and tenders.
Do Anh Khang, vice chairman of People's Committee of Go Vap District, said the biggest obstacle was that there is no official price frame to open the bidding with.
To help districts with bidding, the National Resources and Environmental Department has asked the People's Committee for each district to decide its own price.
The current price for cleaning, collection and transportation of waste services is issued by the City People's Committee.
Recently, committee vice chairman Tran Vinh Tuyen asked the districts to complete the bidding before April 30.
At present, the cleaning, collection and transportation of domestic waste is mainly done by districts' public work companies and Urban Environmental One-Member Co Ltd.
Therefore, when switching to bidding, these companies will have to compete with each other for a share of HCM City's more than 8,300 tonnes of rubbish per day.
Opening bidding for garbage collection will help reduce State budget expenditure and also force collectors to provide quality services.
District 12's bidding for street cleaning, for example, helped reduce costs by more than VND3.6 billion (US$157,740) in the last six months of 2017, the newspaper reported.
The district's authorities said the district only opened bidding on cleaning the street from 2017, while collection and transportation was still done by the local public work company.
The district will launch bidding for rubbish collection and transportation in June.
"The collection and transportation of rubbish is now fair competition under the market mechanism, if any unit does not improve capacity or invest in equipment to meet bidding criteria, it will be left out," said Vu Quoc Bao, director of public work Co. Ltd, in Thu Duc District.
Pham Viet Thuan, director of the city's Institute of Economy, Natural Resources and Environment, said the city produces more than 8,300 tonnes of trash daily, of which 60 per cent is collected by private trash collectors.
According to Thuan, the city should consider inviting them to join bidding to control the environmental landscape and standardise equipment in garbage collection and transportation.
"The bidding is the right move. I think it should have been done a long time ago to improve quality in waste collection and cut costs," he said.
"This is fair competition, equal to all units, breaking the monopoly of the public companies as before," said Prof Che Dình Ly, from Institute of National Resource and Environment of the National University in HCM City.
In Hanoi, more than 6,200 tonnes of rubbish is discharged ever day, according to the municipal People's Committee.
In March 2017, the committee also announced a price frame for trash collection contracts.
By the end of 2017, only one company was responsible for collecting and transporting waste in each district instead of three or four units as before.
The committee said the public bidding saved money and increased efficiency and quality in waste treatment.
Le Anh Tuan, chairman of the council member of Ha Noi Urban Environment One Member Co Ltd, said the price of garbage collection and transportation was reduced by more than 30 per cent due to bidding, resulting in difficulties for the company.
However, he said he fully supported this policy because it created healthy competition.
Private firms involved in garbage collection will help reduce the workload while the city is overloaded with garbage, Tuan said. 
Source: VNS