VietNamNet Bridge – Authorities and people living in the coastal areas of the Cuu Long (Mekong) Delta have taken several measures to prevent saltwater intrusion, including building of dams.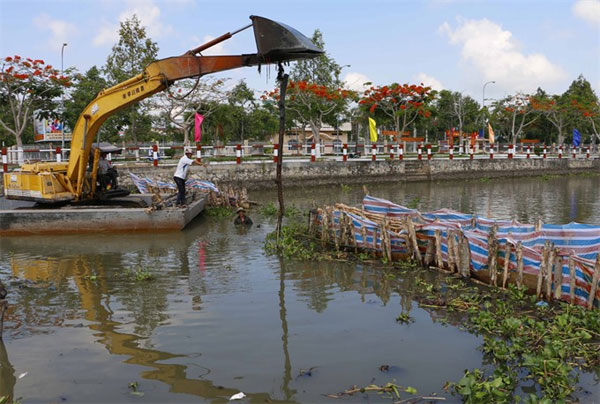 Agricultural officials construct a temporary dam to prevent salt intrusion in the Mekong Delta province of Hau Giang. — VNA/VNS Photo Duy Khuong
Tran Binh Trong, head of the Kien Luong District Infrastructure Economy Bureau in Kien Giang Province, said the district has built a dam on Canal 6 to prevent saltwater intrusion. 
It would monitor the situation to properly regulate the operation of Lung Lon 1 and 2 sluices and Cai Tre Sluice, he said.
Water levels in canals have been low since the end of last month, causing saltwater to encroach deep inland.
In Kien Luong, saltwater has penetrated 15km into the Rach Gia-Ha Tien Canal and Canal 15.
In Tien Giang Province, saltwater has intruded 20km inland and is expected to surge 30-40km by the middle of this month.
Nguyen Thien Phap, head of the Tien Giang Sub-department of Irrigation, said: "Saltwater intrusion is now not severe like in 2016, but the province has actively implemented measures to prevent it."
In areas where saltwater intrusion has occurred, sluices and dams have been closed to protect crops, while in areas where it has not, the storage of fresh water for farming and daily use has been increased, he said.
The Tien Giang Province's People's Committee has instructed relevant agencies to apprise locals about the saltwater intrusion situation.
It has also instructed authorities in coastal districts to dredge canals for storing fresh water and pump fresh water for rice fields if the saltwater intrusion worsens.
Last week, Hau Giang Province dispatched inspection teams to check works for keeping out saltwater.
Lu Van Hung, chairman of the provincial People's Committee, said the salt content in rivers and canals is still low but forecast to be more severe this year than last year.
Therefore, local authorities have to take active measures to mitigate the problem, he said.
Hau Giang Province plans to strengthen dissemination of information to the public, regularly monitor salt content, build temporary dams, dredge canals to store fresh water and repair sluices, according to Tran Thanh Toan, head of its Sub-department of Irrigation.
The sub-department has drafted a plan to prevent saltwater intrusion this year and is waiting for approval from the People's Committee.
Last year, saltwater intrusion was not severe in Hau Giang Province and did not affect agricultural production much, according to the sub-department.
Freshwater shortage
In Ben Tre Province, with the delta entering the dry season, many households in coastal areas have to buy fresh water for agriculture and daily use.
In its Ba Tri District, most farmers growing watermelon in An Thuy Commune have to buy water at VND100,000–120,000 (US$4.4 – 5.2) for 2cu.m, which is 30 per cent higher than last year.
Tran Van Tan, who has 6,000sq.m under watermelon in the commune, said his crop is set to bear fruit and needs a lot of water.
He estimated the irrigation water to cost him VND1.2-1.5 million ($44 - 66) for this crop.
Many households in Ba Tri have dug 1.5-metre-deep ponds to store rainwater for agriculture and daily use in the dry season, but the water in them evaporates rapidly.
Besides, in some areas, the saltwater intrusion has also contaminated the ponds, meaning the water stored in them cannot be used any more.
Truong Thi Lan in Ba Tri District said her family has installed containers to store more than 6cu.m of rainwater for drinking and cooking in the dry season, reducing the cost of buying fresh water for daily use.
In the past, her eight-member family had to spend nearly VND1.5 million a month to buy fresh water from tanker trucks, she said.
Many households worry about the quality of the water delivered by trucks since it is obtained from borewells, she said.
Tran Van Hoang, vice chairman of the Ba Tri District People's Committee, said only 45 per cent of households in the district get clean tap water.
District authorities have instructed households using water from canals and wells to filter the water properly before use, he said.
They have been encouraged to instal containers to store rainwater and now every family has them, he said.
The district is building two water filtering plants to supply clean water, he said. 
Source: VNS