VietNamNet Bridge – HCM City has been taking a number of measures to treat wastewater, including setting up several treatment plants.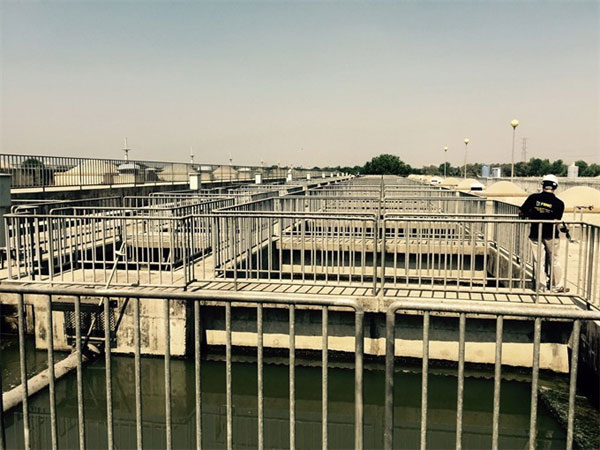 The Binh Hung sewage treatment plant in Binh Chanh District. HCM City is building the second phase of the plant to increase its capacity from 141,000cu.m to 469,000cu.m per day. VNS Photo Bo Xuan Hiep
Under a pollution reduction programme, one of seven related to flood mitigation and responding to climate change and sea-level rise in 2016-20, the city has set itself a target of treating 80 per cent of total daily household wastewater.
Rapid population growth and urbanisation have created great pressure on the environment, especially the city's water sources.
Most canals in the city are now polluted, affecting people's lives.
The amount of domestic wastewater generated daily is around 1.75 million cubic metres.
But with only two treatment plants, Binh Hung and Binh Hung Hoa, the city is only able to treat 171,000cu.m, or 10 per cent of its wastewater.
At some establishments, including hospitals, clinics, and service providers, wastewater is only partly treated before being discharged directly into lakes, canals and rivers, polluting them.
Nguyen Thi Thanh My, deputy director of the Department of Natural Resources and Environment, said the city was implementing multiple solutions to meet the increasing need for wastewater treatment.
The Centre for Operation of Flood Prevention Programme would continue to review and tweak the master plan for urban drainage and build wastewater treatment facilities to ensure all wastewater is treated, she said.
The city is also urging the public not to throw litter into canals and stepping up inspections of companies that discharge wastewater to reduce pollution and degradation of water sources and the environment, she added.
Wastewater treatment projects
The city has set up a number of wastewater treatment plants.
In addition to the two major ones, Binh Hung and Binh Hung Hoa, a wastewater treatment plant has also been built in District 2's Binh Khanh Ward with a capacity of 3,000cu.m per day besides a sewer system to collect wastewater at the Nhieu Loc – Thi Nghe Canal in Districts 1, 3, 10, Phu Nhuan, Go Vap, and Tan Binh. 
The second phase of the Binh Hung plant is being built to increase its capacity to 469,000cu.m per day, and is expected to be completed next year.
The first phase of the Nhieu Loc – Thi Nghe Wastewater Treatment Plant with a capacity of 480,000cu.m per day in District 2 has been completed.
The first phase of the Tham Luong – Ben Cat Wastewater Treatment Plant with a capacity of 131,000cu.m per day is expected to go on stream by the end of this year.
The Suoi Nhum Wastewater Treatment Plant in Linh Trung Ward, Thu Duc District, with a capacity of 65,000cu.m a day is expected to start operating next year.
The city is also building a bio-treatment pond to treat the Ba Bo Canal, and it is expected to be ready by 2019.
The treatment facility is part of the Ba Bo Canal improvement project started in 2010, and can treat 21,500cu.m of wastewater per day, mainly from Binh Duong Province collected through the Ba Bo Canal.
In 2019-20 the city plans to build four more plants: the Sai Gon West Sewage Treatment Plant with a capacity of 150,000cu.m per day, the Tan Hoa - Lo Gom plant with a capacity of 300,000cu.m, the Binh Tan plant in Binh Hung Hoa with a capacity of 180,000cu.m, and North Sai Gon 1 plant with a capacity of 170,000cu.m. 
Source: VNS