Border guards in central Quang Binh Province on Thursday evening released a green sea turtle back in the ocean.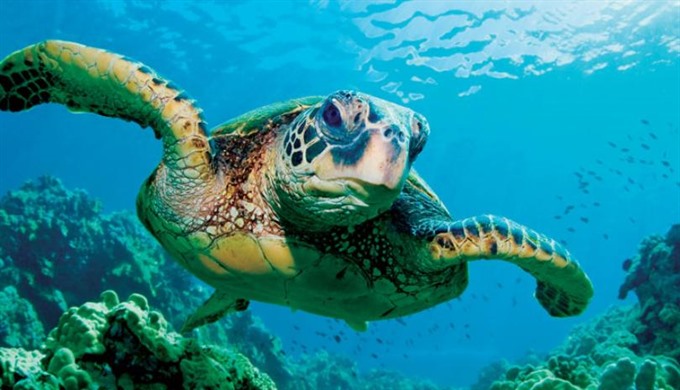 A green sea turtle. - Photo nsbturtles.org
The green sea turtle is featured in the red list of the International Union for Conservation of Nature, indicating that it is an endangered species.
Earlier in the evening, Le Thanh Vinh, a 72-year-old fisherman in the province's Quang Phu Commune, caught the turtle while fishing. It weighed 10kg and measured 0.7m in length.
Border guards at a nearby station apprised Vinh of the Vietnamese law on wild animal protection, and he agreed to release the turtle in the waters.
Vietnamese laws prohibit the hunting, trading, transporting, storing and killing of wild animals. However, many violations in this regard have taken place across the country.
Turtles are among the favourite foods of wealthy Vietnamese drinkers.
In related news, farmers in Hi Lam Commune in neighbouring Quang Tri Province suspected the presence of a leopard in their neighbourhood.
A farmer noticed that 13 of his goats were missing. He later found bones of goats and footprints of a leopard in a local field.
Khong Trung, director of the province's Ranger Department, said they were looking for the leopard and intended to protect the rare mammal.
He said the footprints indicated the presence of two grown leopards in the area. — VNS