Deputy Prime Minister Trịnh Đình Dũng has asked the Ministry of Natural Resources and Environment and the Ministry of Agriculture and Rural Development to examine forest protection and forest land management in the Tây Nguyên (Central Highlands) provinces.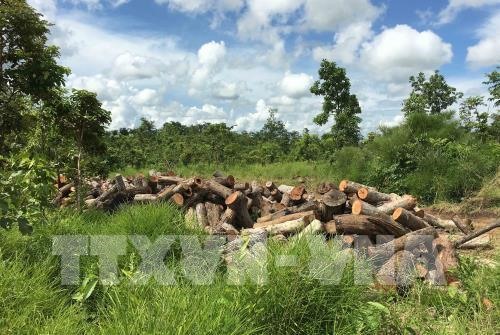 Forest in Ea Súp District in Đắk Lắk was destroyed in July. — Photo bnews.vn
Dũng also ordered the two ministers to report the results to Prime Minister Nguyễn Xuân Phúc before March 30.
The assignment was made on Wednesday following a series of reports published by Vietnam News Agency and Tiền Phong (Vanguard) newspaper revealing that many projects on transferring forests and forest land to businesses to manage and protect had failed to meet targets.
The reports also included stories focusing on vast losses of forest land due to illegal encroaching and trading.
Violations of forest protection and management regulations were found rampantly spreading across the region, despite law enforcement forces chasing after them.
The media appealed for provinces in the Central Highlands regions to urgently take action to manage and protect forests and forest land.
In a nationwide teleconference in October, PM Phúc expressed concern about illegal logging in the Central Highlands caused by loose management and the irresponsibility of several officials and cadres.
According to the agricultural ministry, forest coverage in the Central Highlands has fallen by 3,170ha annually to more than 2.55 million hectares in 2016.
From 2012-2017, about 4,218ha of forests were cut down illegally, accounting for 11 per cent of the total lost. In the first nine months of last year, 1,697 cases of illegal logging were discovered, 757 of them in the Central Highlands. Up to 418ha of forests were damaged, up 53 per cent year-on-year from 2016.
In the Central Highlands province of Đắk Nông alone, 225ha of forests were destroyed in nine months, up 99ha from 2016.
The PM asked departments and agencies to closely follow the resolution on sustainable forest protection and development adopted by the 12th National Party Congress, considering it as an important solution to create jobs, improve local income and raise forest coverage by 42 per cent by 2020.
He ordered that forest gates be closed and projects on forest-use change be strictly monitored in line with Decree No13 of the Secretariat and the PM's directions. This includeds suspending moves to convert natural forest to farmland or for industrial use and construction of small hydropower plants. — VNS