VietNamNet Bridge – Thousands of households living along Cai River in Khanh Vinh and Dien Khanh districts and Nha Trang City of Khanh Hoa Province have complained that sand mining is affecting their production land.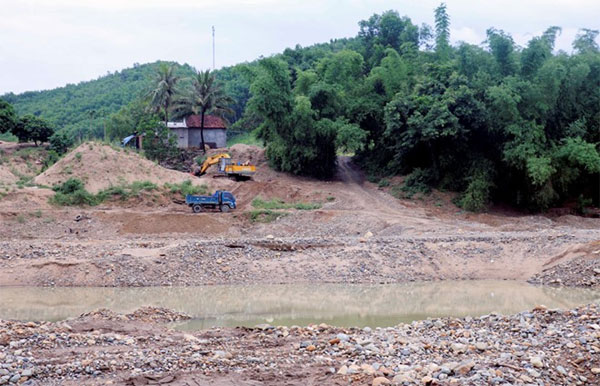 Cai River is deformed due to illegal sand mining in Khanh Hoa Province. – Photo zing.vn
This mining has continued for many years but shows no sign of stopping. The local government has promised to deal with such problem, as residents continue to see their land getting eroded by the river every day, e-newspaper zing.vn reported on Sunday.
Nguyen Dieu, a resident of Dong Village of Khanh Vinh District's Song Cau Commune, said he had reported the incident to the local authority but no one had resolved the issue.
"The sand is still getting exploited, causing erosion and my soil is getting carrried away with the water's flow," he said.
According to the People's Committee of Khanh Vinh District, eight establishments were licensed to exploit sand at the section of Cai River that passed the district area.
"The local inspection team found a lot of river sections had eroded following reports from locals and we will report the problem to the higher competent agency," a representative of the Natural Resources and Environment Division of Khanh Vinh District said.
The section of Cai River that passes through Dien Khanh District's Dien Tho Commune is also facing a similar situation.
Earlier, the river was some 200m away from the provincial road, but currently it was only at a distance of some 20m, Duong Van Manh, a resident said.
Thinh Phat Co., Ltd, located in Dien Khanh District, has exploited sand for many years, but the local environment division said it was not clear if the company was licensed for mining or not.
Meanwhile, the provincial police said during an inspection of illegal sand mining sites along Cai River in September, they discovered Thinh Phat Company undertaking mining activity, however the company did not show the mining licence when checked.
The police said 10 vehicles were engaged in sand mining.
They also found more than 50,000cu.m of undocumented sand at the company's area.
Police said they were completing documents for prosecution as this was a serious case of exploitation of sand, which had been occurring for a long time. 
VNS