Prime Minister Nguyen Xuan Phuc has signed a resolution to sustainably develop the Mekong Delta as apart of an effort to cope with climate change.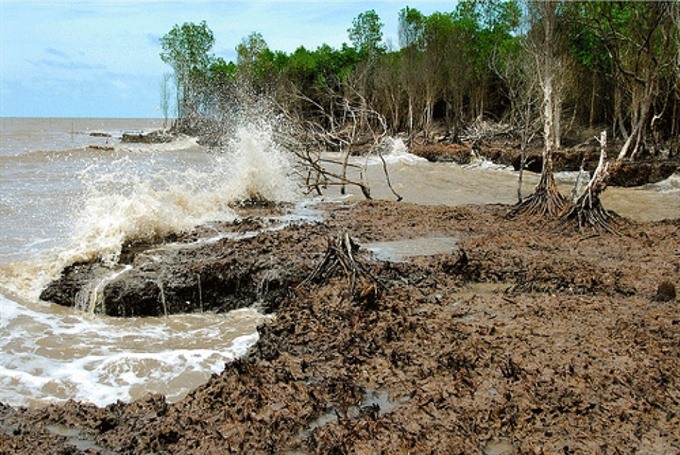 Prime Minister Nguyen Xuan Phuc has signed a resolution to sustainably develop the Mekong Delta as apart of an effort to cope with climate change. — Photo tinmoitruong
The resolution points out that the Mekong Delta accounts for 12 per cent of the national area and 19 per cent of population, contributes 50 per cent of the rice crop, 65 per cent of aquaculture, 70 per cent of fruit, 95 per cent of exported rice and 60 per cent of exported fish.
In the context of globalization and international integration, the Mekong Delta has a great opportunity for development but also faces a great challenge because it is vulnerable to natural changes.
The resolution sets a vision by 2100, the Mekong Delta will sustainably, safely and prosperously develop on the foundation of high-quality agriculture in combination with services, ecological tourism, and industry, especially processing industry, which will help to increase the value and competitiveness of agricultural products.
The infrastructure system of the delta will be carefully planned.
To reach the goal, by 2050, the Mekong Delta will become a region which has moderately good development and a modern social organization level. At that time, income per capita of the delta will be higher than the national average; the proportion of ecological agriculture and high-quality applied agriculture will reach 80 per cent.
"It is very important to create sustainable and prosperous development for the Mekong Delta on the foundation of actively adapting, mobilising its strength and potential, transforming challenges into opportunities for development, ensuring prosperity for local residents as well as preserving traditional and special cultural values, paying attention to land, water protection, and especially local people," the resolution says.
The resolution also provides numerous comprehensive solutions, such as establishing ecological sub-regions for agriculture as economic development and infrastructure construction, and setting up a master plan for sustainable development in the Mekong Delta while adapting to climate change.
In the new master plan, the resolution notes that the definition of "living with floods" should be expanded as "living with floods, brackish and sea water."
In particular, breakthrough mechanisms and policies should be implemented to attract non-budget capital, especially money from the private sector and the most favourable business environment should be created to encourage the private sector.
Encouraging mechanisms for resource mobilization and individual enterprises investing into infrastructure and tourism, including capital lending, bond issuance and public-private-partnership investment should be issued.
Inter-regional, inter-provincial and multiple target projects should get priority in providing loans.
The resolution instructs the Ministry of Foreign Affairs to promote the Mekong river exploitation co-operation, to ensure sustainable and fair usage of the river resources, especially for water resource among six Mekong river basin countries.
The ministry will persuade countries and international organizations which are Mekong river development partners to increase their support for activities of the Mekong River Commission, and will convince upper countries, which are not members of the commission, to join soon.
Particularly, the resolution instructs the HCM City People's Committee to build a co-operation programme with the Mekong Delta provinces in order to promote connectivity among the Mekong Delta, HCM City and Southeast region.
The resolution asks the National Assembly to consider, adjust, add and arrange the State budget to implement missions, projects and programmes which are mentioned in the resolution. - VNS