VietNamNet Bridge - At least 100 percent of monitored craft villages have at least three indicators exceeding the permitted levels, while 35 percent of households are not treating treat waste water before discharging it into the environment.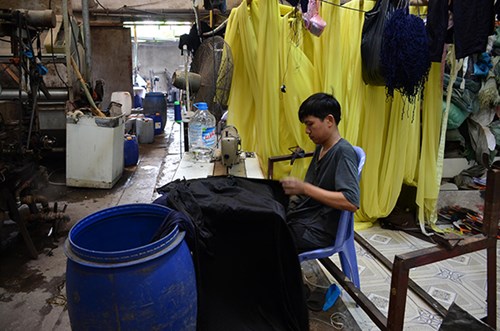 The latest survey by Hanoi's Delegation of NA Deputies found that pollution indexes in craft villages in many districts in the city are 30 times higher than the permitted level. 
It is estimated that every day, craft villages discharge hundreds of thousands of tons of solid waste and 150 cubic meters of domestic waste water. In farm produce & food processing villages, mechanical engineering, forestry product processing and weaving villages, nearly all kinds of waste are discharged directly to the environment without any treatment process.
It is estimated that every day, craft villages discharge hundreds of thousands of tons of solid waste and 150 cubic meters of domestic waste water.
In the craft villages blacklisted as polluting localities, the pollution of water sources and bad air quality can easily be seen.

According to deputy chair of Gia Lam district Nguyen Ngoc Thuan, most craft villages have been developing without any organized plan and the production workshops have existed for the last many years. Therefore, it is difficult and costly to relocate the workshops. 

Meanwhile, the workshops continue polluting the environment because their owners don't have money to install waste treatment systems.

According to deputy director of the Hanoi Environment Department Le Tuan Dinh, Hanoi has the highest number of craft villages with 1,350 villages in eight production fields – food processing; handicrafts; dyeing, tanning; waste recycling; metalworking; building materials; cattle breeding and slaughtering. 

Generating more than 1 million jobs and helping people improve their income, the craft villages are 'hot spots' for pollution. More than 35 percent of households don't treat waste water and 60 percent have simple treatment systems.

Dinh said that municipal authorities are trying to settle pollution in craft villages. Hanoi People's Committee has released Decision No 6138 approving a project until 2020 on protecting the environment in craft villages.

The project would be implemented in two stages. In the first stage, 2017-2020, strength will be gathered to create policies to protect the environment in craft villages, and consider investment and management models of waste treatment establishment. 

In the next stage, automatic monitoring systems, waste treatment systems and waste collection stations will be built and run.

Regarding the budget for project implementation, Dinh said the city will allocate no less than 10 percent of budget for environmental protection to the project. 

It will call for public investment in waste treatment projects, including those to be implemented under the BT mode. It plans to run a program on providing preferential loans to help upgrade technology and apply environmentally-friendly production methods.
RELATED NEWS
Craft villages shun worker safety
Hanoi's youth take craft village tour
Thien Nhien