VietNamNet Bridge – Phu Quoc Island in the southern province of Kien Giang – among the most popular tourist destinations in Viet Nam – is being threatened by environmental pollution caused by rubbish dumps, Lao dong (Labour) newspaper reported.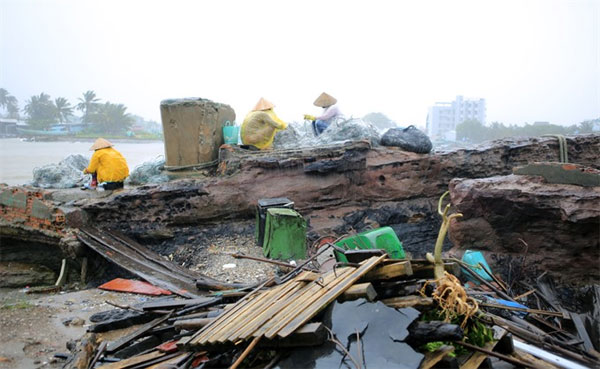 Garbage heap in Phu Quoc Island's Duong Dong Town in the Mekong Delta province of Kien Giang. — VNS Photo 
Tourism services, fishing boats and fish breeding farms are discharging some 300 tonnes of waste per day, though only half is being properly collected, causing serious contamination to the environment, according to the Kien Giang Environmental Protection Office.
In fact, the figure is rapidly increasing. In the first nine months of the year, the island collected over 99,800cu.m of rubbish, nearly 17,000cu.m over the same period last year.
The waste dumping stations in Cua Cạn Commune are now overloaded. Rubbish is piled up like a mountain, giving off a stench. A 5ha dumping station in An Thoi Town suffers the same problem.
Deputy Director of the provincial Department of Natural Resources and Environment, Doan Huu Thang, said the two waste dumping stations are causing serious pollution.
More than 100,000 residents live on the island, along with over 1,600 companies and businesses, predominantly hotels, resorts, services and food processing workshops. Many of them lack standard garbage and waste water treatment systems.
Waste water is collected in sedimentation tanks and then discharged directly into the municipal waste water system. Businesses with access to a wide land area allow waste water to be absorbed directly into the environment.
A waste treatment plant with a capacity of 200 tonnes per day will be put into operation in Ham Ninh Commune at the end of this year, according to Thang. Another plant is scheduled to be built in An Thoi Town, which is expected to help the island deal with the rubbish overload.
Classifying garbage
Deputy Minister of Natural Resources and Environment Vo Tuan Nhan told Lao dong newspaper that rubbish was a hot issue, not only in big urban areas but also in rural ones.
Rapid urbanisation and industrialisation place heavy pressure on treatment of household solid waste, particularly in big urban areas like Ha Noi, HCM City and tourism sites like Phu Quoc Island. Among proposed measures to deal with the problem, are completion of legal regulations and improving waste treatment technology by recycling, burning or turning waste into fertiliser (at present, around 80 per cent of household rubbish are dumped, posing high risk of pollution).   
Raising public awareness of environmental protection and increasing inspection and supervision were also needed, the deputy minister said.
Regarding Phu Quoc Island, Nhan said the ministry would instruct authorities to map out strict measures to deal with the issue, particularly overloaded waste dumping stations.
Bui Thi An, chairwoman of the Institute of Natural Resources and Community Development, told the newspaper that one of the problems was that Viet Nam does not classify rubbish. People should also throw rubbish in the right place as regulated, she said, adding that stricter State management and heavier punishment should be applied for violators.
Tang Thi Chinh from the Institute of Environmental Technology said if each household spent five to ten minutes per day to classify their rubbish, they could save billions of dong in waste treatment facilities.
She suggested increasing information dissemination to raise public awareness and particularly educating children about environmental protection.
The fight against rubbish will only be effective in protecting the country's environment when awareness and mindset are improved, she said.
VNS