VietNamNet Bridge – Water intrusion in the central coastal province of Thua Thien-Hue has threatened 700 families, with local authorities struggling to find a solution.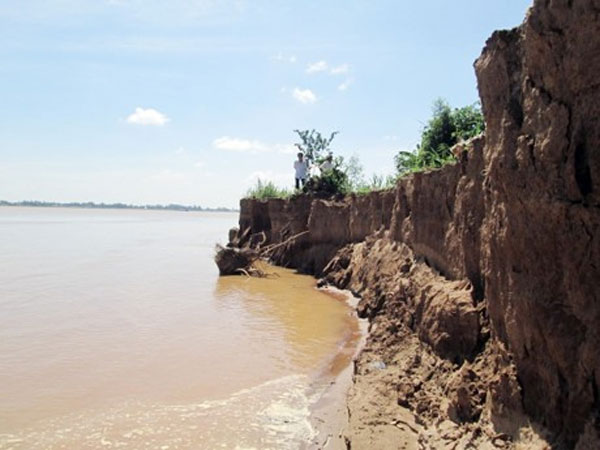 Accelerated coastal erosion of Vinh Hai Commune's coast due to typhoon Doksuri. Photo courtesy of local Department of Irrigation
The intrusion began some 10 years ago in the province's Vinh Hai Commune in Phu Loc District, but was aggravated in the past month after strong waves from typhoon Doksuri hit the coast. The sea intrusion progressed at a rate of about 15 metres a year, affecting 700 households whose homes are near the water's edge, said Nguyen Huu, the commune's acting chairman.
Nguyen Ngoc Dung, a commune official, said after last month's typhoon, the erosion had reached 2km inshore in some areas along a 3km stretch of coast and is expected to advance to the commune's entire 4km length of coast.
Last November, district authorities built a one-kilometre dyke in the most affected area, using rock and steel net. However, strong waves created by Doksuri swallowed the dyke and swept some 3km of coast into the ocean.
According to Dung, local authorities were aware of the growing threat, and instructed that 100,000 trees be planted on the coast to combat erosion, but residents said many trees along the coast were also swept away.
Resident Phan Van Vui said the water had now reached 30m from his house. "I settled down here 15 years ago when the water edge was more than 1km from home, but now it nearly touches my house," he said.
Landslide threat
Le Cu, another local, said that with the fast disappearance of the sandy coast, his family and many others in the neighbourhood are now facing the threat of sudden landslides. According to Dung, landslides have already taken some 250ha of soil used for agricultural cultivation and aquaculture.
Salty intrusion also affected crops and forced local fishermen to seek safer haven for their fishing boats.
While commune authorities have been using poles to reinforce the coast as a temporary measure, district authorities have suggested the construction of a dyke along the 4km stretch of coast.
District chairman Nguyen Van Manh said "only a thorough dyke system can work, as the intrusion is growing too fast." He suggested asking the central government for funding.
Phan Thanh Hung, director of the province's Department of Irrigation, said he had encouraged residents to use bags of rock to prevent landslides. As a long-term solution, his agency is setting up a project, which will be launched early next year if the department gets enough capital. 
VNS