VietNamNet Bridge – Da Nang City Department of Natural Resources and Environment on Wednesday announced that the change in weather resulted in fish death in the Phu Loc River.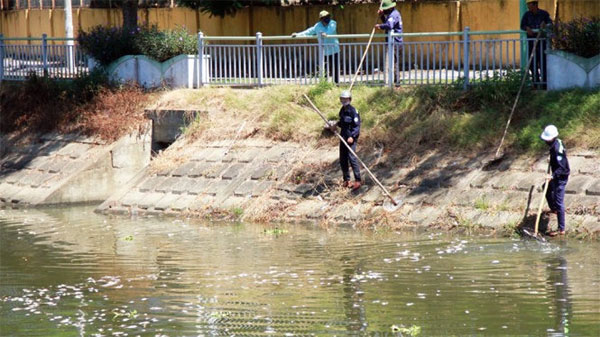 Staff of Da Nang City Sewerage and Waste Water Treatment Company collect dead fish from the Phu Loc River. – Photo tuoitre.vn
This change led to a drop in the amount of dissolved oxygen in the water, the department added.
At the water drainage of Bau Trang lake into Phu Loc River, around 50kg of fish were found dead earlier this week. The initial cause, according to the department, was the decreasing amount of dissolved oxygen at 0.59 – 0.91 mg/l, lower than the regulated level of 4 mg/l.
The department directed the Da Nang City Sewerage and Waste Water Treatment Company to collect dead fish to be processed at the Khanh Son dumping yard and to spread lime over the Phu Loc River area.
It also asked the Centre for Monitoring Environmental Resources to collect water samples and continue observing the lake's water quality from October 4 to 6 to evaluate the pollution level.
Abnormal fish death has been witnessed in the Phu Loc River since October 2. Mai Ma, director of the company, said that the number of dead fish was lower than in previous cases.
Before that, on August 21, tonnes of fish in the river died due to serious water pollution.
Fish death in Hue
Mass fish death also occured in breeding cages in Bo River in central Thua Thien-Hue Province.
Nguyen Thi My Dung, a breeder, said she found the dead fish Wednesday morning in her floating cages on the section of the Bo River passing through the province's Huong Toan Commune.
"I found a number of fish had died while the others were palpitating. We rushed to harvest the palpitating fish for sale to reduce losses," she said.
Some 50 breeders in the commune had dead fish in their cages. The fish weighed some 4kg and were almost ready to harvest.
We are worried about the losses due to the dead fish, Nguyen Thi Gai, another breeder, said, adding that the fish were meant for consumption during the upcoming Tet holiday (Lunar New Year).
Ngo Quang Thao, the commune chairman, said the cause of the mass fish deaths in cages is being determined, but he suspected the high number of fish in each cage led to shortage of oxygen in water.
"Locals blamed the Huong Dien power plant for not releasing water, resulting in reduced flow of the river downstream and leading to a fall in percentage of oxygen. But this must be tested," Thao said.
Huong Dien is a power plant built on the upper part of the Bo River. Thao added that local breeders have ignored warnings against the high population in each cage despite the mass fish dead last April.
VNS