VietNamNet Bridge – With warnings about the ill effects of groundwater on users' health and possible land subsidence due to overexploitation of water, 10 years ago HCM City authorities had adopted policies to reduce the use of groundwater.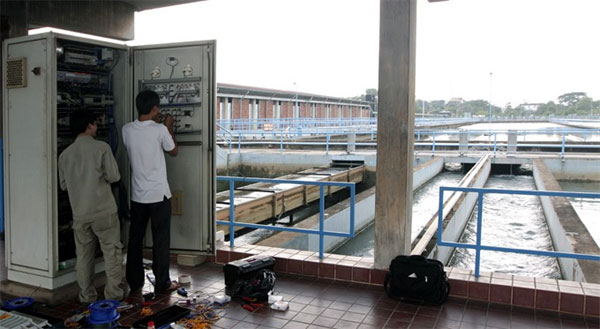 Workers at Thu Duc Water Company check the operation system. In addition to clean water supplied by companies like this, people in many residential areas use groundwater for their daily activities due to a shortage of tap water. — VNA/VNS Photo 
But wells and other sources of groundwater are still in use in suburban areas, according to authorities.
In 2007 the People's Committee announced rules to reduce the exploitation of groundwater and penalties for depleting it.
But in many places businesses continue to exploit and use groundwater.
In many residential areas too, due to a shortage of tap water, people use groundwater for their daily activities.
Huynh Thi Thuy, a resident of Phan Van Hon Street in Hoc Mon District, told Sai Gon Tiep Thi (Sai Gon Marketing) newspaper that residents in her area use groundwater since there is no supply of tap water.
According to figures released by the city Department of Mineral Resources and Environment at a meeting last month, 681,000 cubic metres of groundwater are exploited every day in the city, including 356,000cu.m for use by households and 172,500cu.m for industrial production.
Nguyen Thi Thanh My, deputy director of the city Department of Mineral Resources and Environment, said the city has set a target to reduce groundwater exploitation to 100,000cu.m per day by 2025.
However, this would go against the Law on Water Resources, which allows, without the need for permission, the operation of wells that exploit less than 10cu.m of water a day.
A spokesman for the Sai Gòn Water Corporation (Sawaco) said a huge amount of groundwater is exploited every day in suburban areas, especially in economic processing zones and industrial parks.
A report tabled by the HCM City Preventive Health Centre at a meeting on groundwater exploitation last month said most groundwater used by households in these areas falls short of the standards set for clean water.
Stronger measures required
The uncontrolled exploitation of groundwater could have serious consequences such as its depletion and land subsidence as a result.
The remaining groundwater would also be polluted by the seepage of wastewater from the surface.
In coastal areas any depletion of groundwater would result in infiltration of saltwater, environmental experts warned.
They called for more severe penalties for illegal groundwater exploitation.
High taxes should be levied if groundwater is exploited for industrial production and business activities in areas where water supply is good, they said.
They also urged authorities to stop granting groundwater exploitation licences in areas where such exploitation needs to be curtailed.
They also must have measures to better control the risks of pollution of groundwater resources, they warned.
Most importantly, the authorities must invest more in works to supply clean water to areas where people are using groundwater and educate them on the adverse health effects of groundwater.
Speaking at the meeting last month Tran Vinh Tuyen, deputy chairman of the city People's Committee, said the Department of Natural Resources and Environment must identify areas where groundwater exploitation is prohibited. 
VNS