VietNamNet Bridge – Wastewater disposed by factories in Binh Duong Province's industrial zones (IZ) is the main cause of Ba Bo Canal pollution, according to a new report by the HCM City People's Committee. Thereby, wastewater from those IZs has been not drained into the centralised water treatment plant while discharged directly into the canal.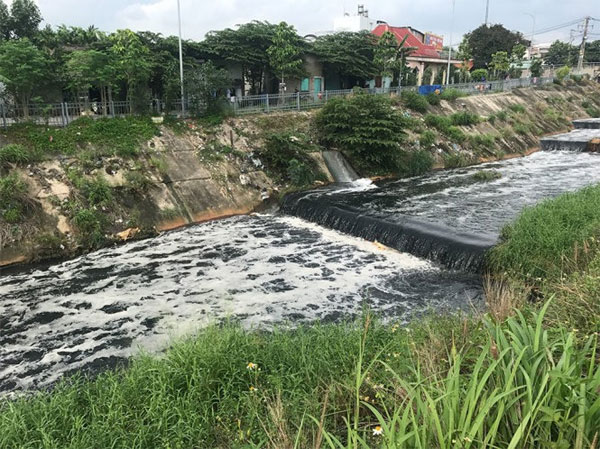 Ba Bo Canal is heavily polluted by untreated wastewater from industrial zones in Binh Duong Province. — Photo tuoitre.vn
HCM City and Binh Duong Province have invested VND1.3 billion (US$70,000) to improve the pollution of Ba Bo Canal for ten years. Its biological water treatment lake is designed with the capability of 20,000cu.m per day. But this technology is only suitable for treating domestic wastewater, not industrial waste. 
The analysis relied on water samples taken at the sewer of the centralised wastewater treatment plant (in Song Than 1 and Song Than 2 IZs) and at the end of the water discharge line showed vast differences. The concentration of pollutants at the end of the discharge line was nearly 26 to 43 times higher than the total suspended solids at the beginning of the line. Chemical oxygen demand at the end of the line was roughly nine to 12 times higher than at the beginning. 
The sample examined 18 monitoring parameters. Eight of these parameters exceeded the allowed limitations, indicating serious pollutants.
In its report to Binh Duong Province, the HCM City People's Committee said that some factories in the provincial industrial zones had discharged wastewater directly into Ba Bo Canal through underground conduits, causing pollution.
HCM City People's Committee asked Binh Duong Province to investigate the activity of direct discharge of untreated wastewater into the drainage line.
The drainage line, which receives wastewater and then drains it into the Ba Bo Canal has a discharge flow of 14,000cu.m per day, accounting for 80 per cent of wastewater discharged to the canal. 
VNS