VietNamNet Bridge – A team of eight scientists arrived in the central province of Binh Thuan on Thursday to assess the environmental protection plan related to the controversial dumping of sludge into the sea.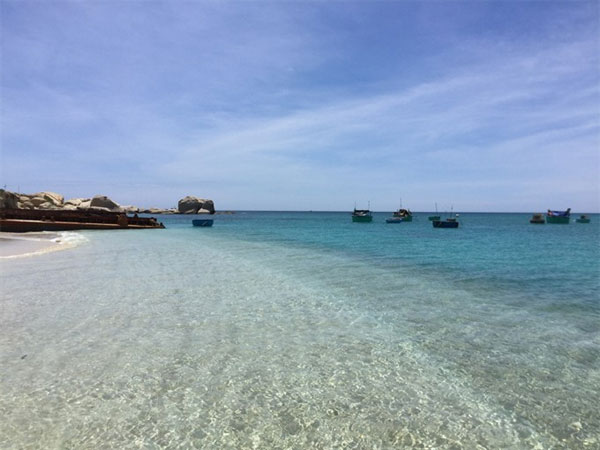 The Hon Cau Marine Protected Area in Binh Thuan Province contains a 2km coral reef and 234 kinds of coral where many kinds of lobster live.
On June 23, the Ministry of Natural Resources and Environment granted a licence to the Vinh Tan 1 Thermal Power Plant to sink one million cubic metres of sludge near the Hon Cau Marine Protected Area, one of 16 such areas in the country.
The Hon Cau Marine Protected Area contains a 2km long coral reef and 234 kinds of corals that is home to many rare marine species.
Many citizens have expressed concern about the sludge dumping and its impact on the Hon Cau Marine Protected Area. 
The team of scientists held working sessions with the Hon Cau MPA and the Binh Thuan Shrimp Association to discuss possible impacts of the planned dumping on the MPA and local shrimp farms.
Deputy Prime Minister Trinh Dinh Dung has instructed the Viet Nam Academy of Science and Technology to work with other scientific organisations to determine if the Vinh Tan 1 Thermal Power Plant should be licensed to sink the amount of sludge.
He said the academy could invite foreign consultants to examine the environmental impact in Tuy Phong District in Binh Thuan Province, where the thermal power plant is located.
Scientific organisations are expected to carefully reconsider the environmental impact report on sinking sludge, and report to the Prime Minister as soon as possible.
Earlier on Saturday, the Ministry of Industry and Trade (MoIT) called for clarification after waste dumping violations reportedly occured at the coal-fuelled power plant into the sea off the coast of Binh Thuan Province, an area rich in natural resources that could be badly damaged by the waste.
MoIT asked the MoIT's Industrial Policy and Strategy Institute to determine violations of and consider discipline against Ha Quoc Quan, one of its staff, in association with the Vinh Tan 1 Power Company's waste dumping project, Vietnam News Agency reported.
According to the request, the institute must ask Quan to prepare a full report clarifying the establishment of the company, as well as its hiring of retired MoIT officials as specialists. Under current law, a civil servant is not allowed to manage a private company.
MoIT also called for clarification of the company's work as the consultant for the waste dumping project as well as the mention of domestic scientists as its consultants. 
VNS