The popular tourism destination of Phu Quoc Island is facing increasing environmental pollution.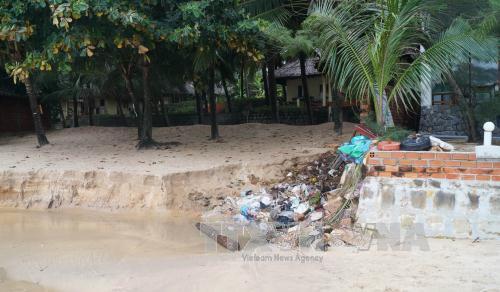 Rubbish on a beach in Phu Quoc
The Ministry of Agriculture and Rural Development and authorities of Kien Giang Province on July 7 held a seminar on measures to preserve Phu Quoc Nature Reserve in the coming time. 
Delegates at the seminar agreed that more serious environmental pollution was threatening the seas and ecology surrounding the tourist island of Phu Quoc.
Rubbish and waste water from tourism services, fishing boats and fish breeding farms are discharging over 180 tonnes of waste a day, and only half is being properly collected, causing serious contamination to the environment, according to the national resources and environmental office of Phu Quoc District.
More than 100,000 residents live on the island, along with over 1,600 companies and businesses, predominantly hotels, resorts, services and food processing workshops that lack standard waste treatment systems.
The construction of a waste treatment plant in Phuc Quoc is still underway, which means rubbish is mainly thrown into open dumping sites at Cua Can and Bai Tram areas. These huge open dumping grounds hold mountains of waste in many areas such as Cua Can and Dong Tram.
Phu Quoc District admitted the problem as they had failed to plan for increased tourism. The district has tried to collect and treat rubbish in residential areas and public beaches, but sometimes collections are not performed regularly due to employing too few people.
Phu Quoc Nature Reserves was set up in 2007 with a total area of 26,863 ha. Since 2013, the reserves have jointly co-operated with Wild Animal Rescue Foundation to hold events on environmental protection, attracting thousands of participants.
dtinews