VietNamNet Bridge – Shrimp breeders in Song Cau Township, Phu Yen Province have strongly opposed a local seafood processing factory's discharge of untreated wastewater into Xuan Dai Bay, recently causing mass shrimp death.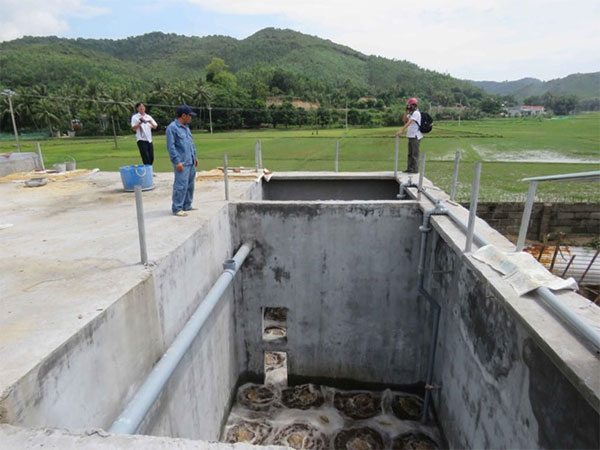 Wastewater treatment system of Nguyen Hung Ltd.Co's seafood processing factory is broken. Local shrimp breeders suspected the factory discharge was the cause of the recent mass shrimp death. — Photo thanhnien.vn
The breeders suspect the wastewater discharge of Xuan Phuong Commune-based Nguyen Hung Ltd.Co's factory was the main cause of the 524,000 shrimp that died in the few days, according to shrimp breeders in Xuan Yen Ward and Xuan Phuong Commune, with hundreds of billion dong in damage.        
Nguyen Thanh Nam, a shrimp breeder in Xuan Yen Ward, said all breeders along the bay were suffering losses.
"We urge the authorities to clarify the cause and respond to the people," he was quoted as saying to the Thanh Nien (Young People) newspaper.
Nguyen Thi Hoa, deputy director of Nguyen Hung Ltd.Co, explained two months ago, the factory's wastewater treatment system crashed, so all wastewater was sucked into tank trucks and transported to another system in Xuan Canh Commune for processing.
According to Hoa, the factory processed from 10 tonnes to 14 tonnes of fish every day. The factory's wastewater treatment system has designed-capacity of 80cu.m per day, while it only discharges 12-17 cu.m per day and about 40cu.m at peak day.
Hoa said the company was upgrading its wastewater treatment system. After wastewater is treated, it will be poured into bio-tanks and then reused to clean workshops. He claims that the factory didn't discharge wastewater into the environment.     
Nguyen Hung Hoa, the company's director, said it had temporarily suspended operation, awaiting test results from relevant agencies.
Implementing the instruction of Phu Yen Province People's Committee and Department of Natural Resources and Environment, the environment protection office and environmental crime police came to the factory to take samples of wastewater for testing.  
At a meeting between local authorities, residents and environment research offices on Monday, Tran Huu The, deputy chairman of provincial people's committee, said local authorities might invite experts to examine the situation. 
VNS