VietNamNet Bridge – HCM City districts and Mekong Delta provinces are facing risks of soil submersion, studies have shown.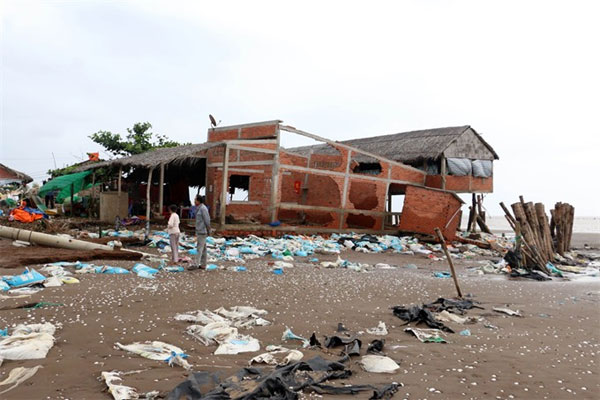 Houses destroyed by high tides in the southern province of Ben Tre. Mekong Delta provinces face the risk of soil submersion, studies show. – Photo: VNA/VNS
A group of researchers from the Department of Natural Resources and Environment, led by Prof. Le Van Trung of HCM City Polytechnic, compared remote sensing images between 1992 and 2010, which were updated in 2016.
They said the ground in the city's Binh Chanh District, southern areas of Binh Tan District and District 8, as well as the northwestern area of Nha Be, has been sinking at 5 mm to 10 mm annually.
Human impact on the natural environment such as urbanisation, exploitation of underground water, and ground vibration from road traffic were the main causes of ground submersion, the studies said.
Trung said the soil for several years had been sinking and was now below the national height limit.
In low-lying zones, soil depression plus rising sea levels (an average of 3mm a year due to climate change) has enlarged inundated areas and created new ones, Trung said.
In coastal areas, the over-exploitation of underground water has caused saltwater intrusion, which negatively affects growth of plants and trees as well as sustainable agricultural development.
"Necessary measures should be taken to limit ground submersion," Trung warned. "Without efforts to reduce it, the region could face stronger soil sinking, like that encountered by Shanghai, causing a number of areas in the region to sink into the sea."
Ecologist Nguyen Huu Thien said that soil depression plus rising sea levels would cause the Mekong Delta and HCM City areas to submerge faster.
However, authorities have focused more efforts on rising sea levels than on soil submersion, which is more urgent.
Sea levels are rising about 3mm per year, while the region has faced soil sinking 10 to 20 times higher. Therefore, the most urgent effort should be focused on ground submersion, he added.
Funding
A study from the Norwegian Geo-technical Institute (NGI) released in 2012 – 2013 said that ground submersion extends from the Mekong Delta to Ca Mau Cape at the southern tip of the country.
In Ca Mau Province, the soil is sinking at 2cm to 5cm per year, while most of the ground in the locality is less than 1.5m above sea level.
This means the entire province could submerge into the sea in the next few decades if local residents continue to use underground water.
Substantial evidence shows that most Mekong provinces would face similar risks of soil submersion because of underground water exploitation, which has been affecting 24 million residents in the region, according to the NGI study.
Meanwhile, a report released by the Ca Mau's Department of Natural Resources and Environment said there were 141,226 underground water wells (30 wells on each sq metre of land) in Ca Mau, the largest number in the Mekong provinces.
The wells allow Ca Mau residents to pump out nearly 400,000 cubic metres of underground water per day.
Being over-exploited, many underground water wells in Ca Mau have become exhausted. More than 2,100 wells in the province have been left unexploited due to exhaustion of underground water.
A source from the Ca Mau Department of Natural Resources and Environment said these abandoned wells posed risks of underground water pollution.
He said 1,500 of these abandoned wells had been filled and the remaining wells would be filled with cement by the end of the year.
To Quoc Nam, deputy director of Ca Mau's Department of Agriculture and Rural Development, said Ca Mau planned to reserve fresh water, including irrigating water from Hau (Posterior Mekong) River to the province.
In the near future, the province will build a 100ha reservoir to supply fresh water to three northern districts of U Minh, Thoi Binh and Tran Van Thoi.
The reservoir project will require investment of VND200 billion (nearly US$9.7 million). 
VNS