VietNamNet Bridge - Ten years ago, Vietnam began calling upon farmers to restructure agricultural production, but no considerable changes have occurred.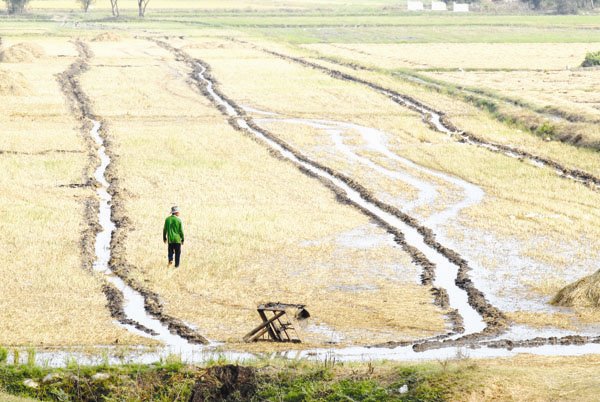 The Mekong Delta still doesn't know which plants to grow or animals to breed once the income from rice and fish begins to fall.
The saltwater intrusion in the last few years, especially in 2016, has affected agricultural production and people's daily lives in the Delta. 
Ten years ago, Vietnam began calling upon farmers to restructure agricultural production, but no considerable changes have occurred. 
Scientists recently warned that climate change and rise in seawater levels may come more quickly than initially thought. Meanwhile, Vietnam is one of the countries most affected by climate change. 
The rise in seawater level will submerge 50 percent of the rice fields in Mekong Delta under saltwater in several decades. 
The Mekong Delta is the rice granary of the country, the major source of rice supply for domestic consumption and export. The rice growing area is 1.546 million hectares in the Delta, which accounts for 50 percent of total rice growing area in the country. 
The rice output in the region was 25.2 million tons in the 2015-2016 crop, accounting for 56 percent of the country's total output, and 90 percent of export volume. 
An Giang, Kien Giang, Dong Thap and An Giang provinces, with rice fields and rice output accounting for 60 percent of the Mekong Delta production, are hoped to be the key provinces in the national food security strategy in the context of climate change.
In June 2013, the Ministry of Agriculture and Rural Development (MARD) decided to shift 200,000 hectares of land for rice tilling into the land for growing soybeans and maize. However, since no guidance on the shift was released, the shift was implemented on only 35,000 hectares.
Meanwhile, the income from rice exports is on the decrease. In 2012, Vietnam exported 7.72 million tons. The figure fell to 6.61 million tons in 2013 and to 5 million tons in 2016.
Mekong Delta's farmers have been trying to adapt to the new circumstances by applying intensive farming and intercropping models, and producing new, green and safe products for domestic market and export.
Loc Troi Group in the last few years has been running a cooperation program with coastal provinces, including Bac Lieu, under which fragrant rice is grown in rotation with black tiger shrimp.
Experts have pointed out that farming shrimp is a good solution under saline intrusion and climate change conditions. 
Prime Minister Nguyen Xuan Phuc has recently announced that Vietnam will become a world shrimp production base. A MARD report showed that shrimp export turnover has increased from $1.5 billion in 2007 to $3.2 billion in 2016.
Kim Chi