VietNamNet Bridge – Illegal sand mining along Ha Noi's rivers keeps increasing, causing loss of resources and polluting the environment, while negatively affecting socio-economic development and people' security.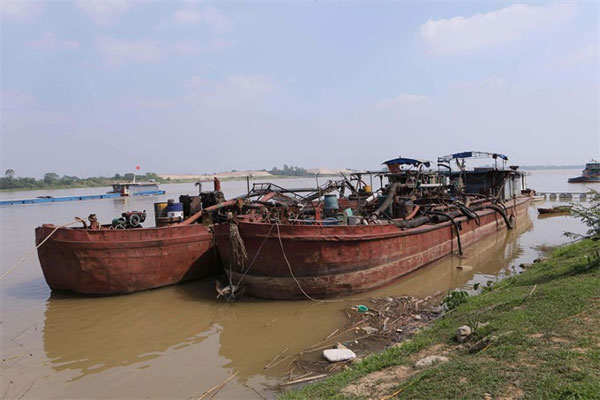 Vessels seized this month for illegally exploiting sand on Hong (Red) River in Ha Noi's Thuong Tin District. In the first ten months of this year, municipal police discovered 151 cases of illegal sand exploitation with 191 people involved. — Photo: VNA/VNS
In the first 10 months of this year, the municipal police discovered 151 cases of illegal sand exploitation with 191 people involved. They were fined a total VND2.8 billion (US$125,000).
In the latest case, police caught 15 vessels last Wednesday illegally exploiting sand along the Hong (Red Delta) River.
Local authorities have taken a number of measures to deal with the situation, such as increasing supervision and punishments, but difficulties remain.
Deputy Head of Ha Noi's Environment Crime Prevention and Fighting Police Department Phung Quang Hien told Ha Noi Moi (New Ha Noi) newspaper that one of the key challenges was the handling of violators found to be illegally exploiting sand along river areas which are bordered by Ha Noi and neighbouring provinces.
There was not clear demarcation of administrative boundaries under the rivers between these localities so it was difficult to punish violators, particularly areas bordering Ha Noi, Phu Tho, Vinh Phuc and Hung Yen.
In Hong River, for example, Ha Noi authorities only granted licences for 12 businesses to exploit sand on the banks of the river, but authorities of Hung Yen and Vinh Phuc allowed 14 businesses to mine sand from the river-bed, he said. As police could not define the administrative boundary along the river, it would be hard for them to punish violators due to a lack of legal basis.
The shortage of human resources and supporting equipment for police in the fight against illegal exploiters were also blamed for the situation, he said.
Meanwhile, illegal exploiters have become smarter, using various techniques to evade capture, such as working at night, employing poor labourers, and even creating fake exploiting licenses, he said.
According to local police, within a couple of hours at night, a ship can be filled to capacity and moved to a private port along the riverbank to sell its cargo. In some cases, ships can even approach riverbanks and directly suck up sand with high powered pumps. If detected by authorities, offenders often will deliberately sink their ship to destroy the evidence.
Dyke management agencies reported that illegal land mining not only caused environmental pollution and loss of resources, but also caused the erosion of rivers and has damaged farms and gardens along riverbanks.
The heavy traffic of trucks transporting sand from these sites has damaged road surfaces on the dyke and spilled sand, causing environmental pollution and threatening traffic safety, they said.
To deal with the situation, Ha Noi authorities have worked with the Ministry of Natural Resources and Environment and authorities of neighbouring localities to clearly define river administrative boundaries between localities to establish a legal basis for handling violations.
Ha Noi also built plans to further increase inspection and patrol, manage the licensing of mining activities and strictly handle violators.
VNS