VietNamNet Bridge – Tonnes of cage-raised fish along the Buoi River in the north central province of Thanh Hoa have continued to die, according to local officials.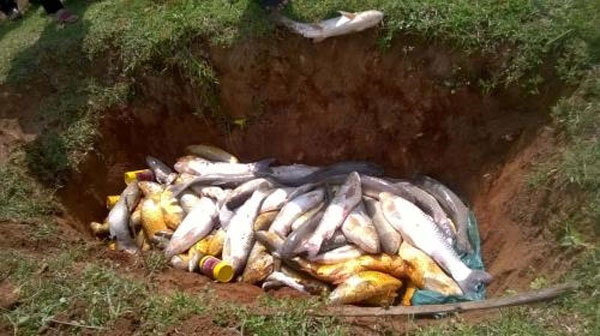 Dead fish on the Buoi River were buried with chemicals to prevent environmental pollution. — VNA/VNS Photo Khuou Tu
The mass deaths hit fish farms in Thach Thanh District's Thach Cam and Thach Dich communes.
Most of the dead fish were grass carp that were about to be harvested.
The People's Committee of Thach Thanh District has asked relevant agencies to submit samples of the dead fish and water from the Buoi River for testing and further investigation.
Local authorities have been instructed to bury the dead fish with chemicals to prevent environmental pollution.
Further investigations were underway to determine the cause of the mass fish deaths along the river.
Earlier this month, people from Thach Thanh District's Thach Lam Commune detected thousands of dead fish floating on the Buoi River. They said the water had turned a muddy colour and had a bad odour. The same situation also occurred in other communes downstream of Buoi River like Thach Quang, Thanh My and Thanh Vinh of the district.
The provincial authorities identified Hoa Binh Sugar Cane and Sugar Joint Stock Company, located upstream in Hoa Binh Province, as the cause of the mass fish deaths.
At a meeting with the departments of Natural Resources and Environment of Thanh Hoa and Hoa Binh provinces on May 5, company leaders admitted to discharging untreated water into the river, polluting the river and impacting the life of the local people in 15 communes in Thach Thanh District.
Managers said the company released 250 to 300 cubic metres of unprocessed wastewater per day into the river from March 15 to April 25.
They said the company was performing a test run and its wastewater treatment process was not yet operational.
The company leader agreed to pay over VND1.4 billion (US$62,762) to compensate households whose fish farms had been damaged by contaminated water.
The total number of dead fish reported by affected households was 17.55 tonnes.
VNS