VietNamNet Bridge - Vietnam has many precious orchid species, but many of them have become extinct because of poor conservation.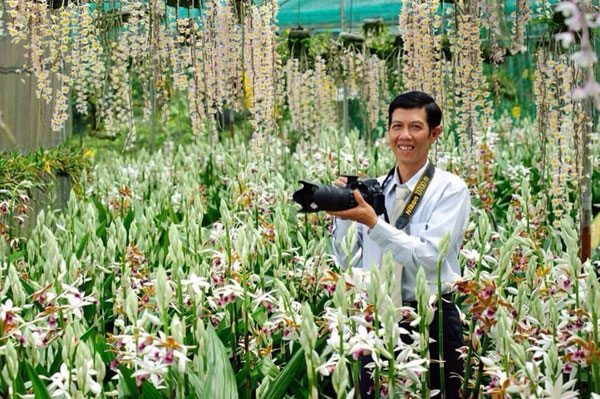 Trinh Van Sy of Bao Loc City in Lam Dong province is now trying to preserve orchid species in his garden.
There are over 200 wild orchid species in Van Sy Orchid Garden, covering an area of 1,800 square meters. Most are endemic species.
Sy said his orchid garden may not be the largest in Vietnam, but he has very precious orchid species. 
"A lot of orchid collectors have asked me to sell orchids to them, but I have refused because I still have not found the solution for orchid multiplication," he said.
Pointing to a vase of orchids, Sy said the orchid was very expensive with the selling price of VND10 million for every centimeter of branch. 
Vietnam has many precious orchid species, but many of them have become extinct because of poor conservation. 
Sy bought the orchid during a trip in which he met an ethnic minority man. Sy later discovered that the orchid flowers are 'very unique' and his friends said they had not seen any reports about the orchid before.
Sy was also proud of the white narcissus in his garden, saying that each branch of the orchid is priced at VND 10 million. The flowers bloom during Tet days, are very charming and exist for a long time.
"This is a mutant orchid species. As the gene is weak, it is easy to die. The only solution for multiplication is doing this manually with old trunks. So, it takes much time to develop," Sy said.
As an orchid collector, Sy traveled to many forests throughout the country to look for precious orchids, from Loc Bac , Loc Nam to Di Linh and Bao Loc. However, he later decided to buy orchids from local men who sell orchids per kilo. 
Sy said this was a good solution because he sometimes found precious species. He said that a lot of new orchid species were found, but the plants died later because of improper technique.
Van Sy Garden with 200 endemic orchid species is the place to visit not only for orchid collectors but travelers as well.
And people love Van Sy Garden not only because they can enjoy the beauty of orchids in the garden, but also because the garden can helps protect the Vietnamese rare and precious orchids.
Sy said he can earn from VND800 million to VND1 billion during Tet from selling orchids. However, he is a choosy seller.
"Sometimes I only accept to sell orchids to connoisseurs, because only they can take care of the orchids I love," he said.