VietNamNet Bridge – Viet Nam's major crops like coffee, pepper and cashew have been affected by the prolonged drought, making businesses worry about possible shortages for processing and export, according to the Ministry of Agriculture and Rural Development.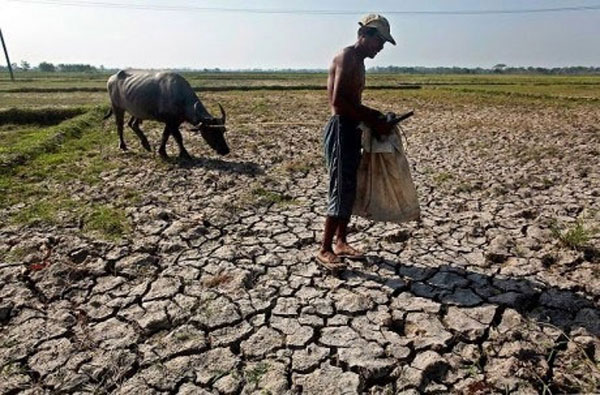 A field is exhausted in central region of Viet Nam. — Photo hanoimoi.com.vn
In late April the family of Nong Thi Lieu of Tan Thanh Commune in the southern province of Binh Phuoc's Bu Dop District gloomily saw its 400 pepper vines had withered.
The vines, which yielded 500kg of pepper in 2015, had died without water for the last three months.
Lieu's efforts to find water by digging over 100 metres into the ground were in vain.
"I feel unhappy to see the pepper vines which have been withering day after day, but all efforts to save them were in vain.
"What we can do now is to cut off up to the roots to keep them fresh until there is some rain to revive some of them."
Hoang Thi Lien, 43, also of Tan Thanh Commune said last year she had used her savings and borrowed VND300 million to grow 1,500 pepper vines on 1.2ha of land. The vines grew well but the severe water shortage this year forced her to buy a pump and pipes to bring water from over 2km away to irrigate her pepper.
Unfortunately, on a storm on April 18 destroyed 1,200 of her 1,500 vines. With help from troops stationed in the area, she tried to restore the vines but with little success: "It is difficult to restore pepper vines that have been broken," she said.
According to Binh Phuoc authorities, the prolonged drought has had a great impact on the province, affecting 27,500ha of various crops and destroying 3,143ha as of April end.
Hoang Phuoc Binh, deputy chairman of the Chu Se District Pepper Growers' Association in Gia Lai Province, said production is 50 per cent down from last year because of low fruit-bearing rates, smaller beans and lower weight of the pepper caused by the drought.
Binh said Chu Se District's output dropped from 5-6 tonnes per hectare last year to 2.5-3 tonnes now.
"If there is no rain in the next two weeks, Chu Se's pepper output will suffer further losses."
The drought has damaged not only pepper but also other crops in the Central Highlands and south-eastern region like cashew and coffee.
According to the Ministry of Agriculture and Rural Development's cultivation department, due to the impact of El Nino, rainfall in 2016 is 15-30 per cent lower than average, with no rain reported in the provinces of Khanh Hoa, Ninh Thuan and Binh Thuan.
The volume of water in reservoirs in the Central Highlands stands at 50-60 per cent of capacity, much lower than at the same time last year.
The extent of arable land hit by the drought has reached 150,000ha, including 136,000ha of coffee and pepper.
Consideration before signing contracts
After a fact-finding tour of pepper growing areas in the Central Highlands and south-eastern region, Nguyen Van Queo, director of Hung Hung Import/Export Co. based in Chu Se District, said the quality of pepper would suffer because growers have had to harvest the crop earlier to avoid the drought.
"Despite our great care, pepper production will fall by 25 per cent. Growers have to harvest their pepper crop earlier for fear that water shortages will damage their crop."
In such a situation, there would be a shortage of high-quality pepper, he said.
A report from the Viet Nam Cocoa – Coffee Association (Vicofa) said coffee production has been affected by the worst drought in the last three decades, with 165,000ha of crops facing water shortages and 40,000ha withering.
Vicofa has estimated that Viet Nam will have around one million tonnes for exports in 2016, 25 per cent down from last year.
The drought would also affect cashew yields, output and exports in 2016, the Vicofa report said.
Dang Hoang Giang, deputy chairman of the Viet Nam Cashew-nut Association (Vinacas), said his association is worried about output this year.
The yield in the year's first crop (which accounts for 90 per cent of annual production) dropped by 20 per cent year-on-year, he said.
This would exacerbate the shortage of raw cashew faced by processing plants since Viet Nam imports 50-70 per cent of it even in normal years, he said.
"Cashew prices have soared since the beginning of the year while export prices (of processed cashew) are lower.
"Vinacas has recommended that businesses should be careful before signing export contracts because with the present shortages businesses face risks."
Drought yet to peak, warns minister
The massive damage in the Central Highlands and south-east notwithstanding, the drought has yet to reach its peak, Minister of Agriculture and Rural Development Cao Duc Phat warned during a visit to Binh Phuoc Province on April 23.
Phat urged provincial authorities to step up efforts to combat the drought, which he said would prolong.
He also told them to guide people in coping with the drought, ensure that no one suffers from food or water shortages, prevent diseases, and minimise possible damages from the drought.  
VNS