Crops and farms would be protected by a mass of mangrove forests in the Cuu Long (Mekong) Delta provinces, thanks to a restoration project.
The risk from rampant construction of embankments in the Mekong Delta
Vietnam's 'rice bowl' is sinking
Damming puts Vietnam's Mekong Delta at risk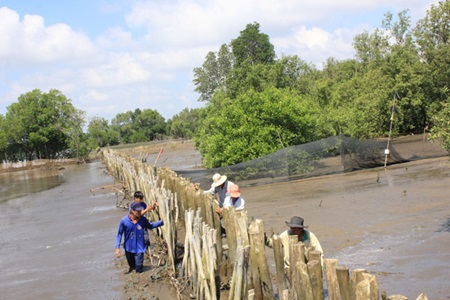 The region is home of millions people and is the country's most important agricultural region, but climate change is leading the rising sea levels, and some areas of the coast are already being eroded.
The mangrove forests along the coast, which protect the hinterland from floods and storms, are in dramatic decline.
A project under the Integrated Coastal Management Programme, co-funded by Germany and Australia, which was implemented in Hon Dat District's Vam Ray hamlet, first gained success in Kien Giang province.
The project has worked with the local community and relevant authorities to establish a coastal protection model in Hon Dat District.
It has helped farmers here to make plans to adapt to climate change, including activities such as mangrove rehabilitation and coastal forest protection measures, promotion of alternative income opportunities for communities dependent on coastal forests and improved dyke construction and management.
Huynh Huu To, one of the project's staff, said technical staff supported farmers in applying new techniques in restoring mangrove to prevent erosion.
"In the six years since 2009, in implementing the pilot project, such forests provide the best protection against floods and storms," To said.
To added that the cost for building a dyke to prevent waves reached VND30 billion (US$1.3 million) per kilometre, but it is often destroyed yearly.
The provincial authorities also urged residents to plant forests in previous years, but failed to prevent saline water from spreading, he said.
"In previous years, many local residents gave up their farms to find another job or work for other region's farms because plants and fisheries could not live in saline water," Tong Van Anh, a local resident said.
"Dykes are breached each year with the saltwater intrusion, destroying crops and fish production", Anh said.
But now the coastal dyke is no longer directly affected by waves, he said.
"Income from fisheries is not high yet but the benefits which come from mangrove forests have been recognised by local residents here", said Nguyen Tin, deputy director of Hon Dat forest management department.
In 2014, her family had invested capital from a loan from a women's association to build ponds for fish farming, and benefited from it, Anh's wife said.
Mangroves had helped to safeguard several kilometres of sea dykes, houses, roads and agriculture lands and residents could keep their mind on their work, said Tin.
The project had addressed ways to improve the production and even led to their expansion, Tin said.
Mangrove forests play a vital role in the mitigation of threats presented by climate change, and in particular sea level rise and storm surge.
Local communities have also become increasingly aware of the great risks involved, according to Tin.
Under the programme, the province will further implement planting mangrove forests in An Bien and An Minh districts.
Big waves destroy Cua Dai beach
Despite efforts to save the beach from erosion, big waves and strong winds have washed away a 300m section of Cua Dai Beach, 5km from Hoi An ancient town, over the past four days this week.
Chairman of the central Hoi An City's People's Committee, Nguyen Van Dung said over 300 volunteers, excavators and hundreds of sand bags and bamboo poles have been used to prevent heavy erosion over the past two years, and this time was the worst.
"We raced against time to save this beautiful beach and a favourite destination of tourists. We have spent much money to combat erosion, but our endeavours were in vain when part of the beach was washed away in rainy season," Dung said.
"Locals built a dike out of bamboo and sandbags to limit the erosion, but it's just a temporary solution. We need a long-term method to protect the beach," he said.
Dung said the city had submitted a possible solution, Geotube, with consultancy of experts from the Netherlands.
He explained that a 1,100m Geotube sandbag dike, which lays under the water, would be set up 60m away from beach to prevent big waves washing sand away from the beach.
He said the emergency solution will cost VND35 billion (US$1.6 million), but the funds had yet to be approved by the government.
The city reported that about 8ha of Cua Dai public beach had been washed away and dozens of resorts in the area were in danger of collapsing.
An expert from Hoi An blamed the erosion on the construction of resorts on the beach and the lack of proper environmental assessments before dredging occurred in the estuary.
The city has planned an investment of VND7.5 billion ($357,000) to replant 140ha of Nipa palm along the Thu Bon River to reduce sand erosion in Cua Dai beach, but the ecological solution has not yet been approved. 
Ca Mau plans drought, saltwater intrusion prevention in dry season
The southern coastal province of Ca Mau will need about 173 billion VND (7.7 million USD) to carry out its plans on preventing drought and saltwater intrusion, which are impacts of the El Nino phenomenon, in the 2015-2016 dry season.
The province plans to use the fund for dredging canals, building dykes to stop flood tides, and pumping water for more than 35,000 hectares of Winter-Spring rice crops and preventing forest fire, according to the provincial Department of Agriculture and Rural Development.
The rain season this year ended one month earlier than normal. Coupled with prolonged heat waves, it caused inadequate supply of fresh water to desalinate soil in local mixed rice-prawn farming areas. Lack of fresh water also reduces water volume in canal systems, facilitating saltwater intrusion.
The National Centre for Hydro-Meteorological Forecastings (NCHMF) warned the impacts of El Nino will last until early 2016.
Over 36,600 hectares of forests in U Minh Ha and local islands are facing high risk of fire during this dry season while increasing salinity of river water, which is forecast to exceed 30-40 percent, could seriously harm prawn production and rice farming.
To deal with the problems, Ca Mau province requested authorities of its districts and city to closely monitor the salinity and ensure water reserves and human resources for forest fire prevention.
It also recommended local residents to use fresh water economically and wisely.
Meanwhile, the provincial Department of Agriculture and Rural Development asked its agencies to examine local canal and dyke systems and speed up the canal and dyke upgrade projects.
VNS