About 24 rescued pangolins were released back into the wild on Sunday by Save Vietnam's Wildlife.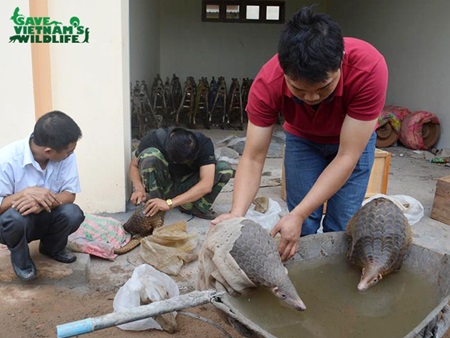 Eleven of the released pangolins were from a group of 43 pangolins transferred from Yen Thuy District forest protection department (FPD) in Hoa Binh Province in May 2015. The remaining 13 were handed over by Ninh Binh FPD in June, July and September 2015.
According to SVW, the pangolins were being trafficked in nylon bags, unable to move and without access to food or water for an unknown period.
Several of the animals were found to have been force-fed a slurry comprising corn powder and limestone powder. After five months of rehabilitation at the centre, the pangolins were in good health and ready to return to the wild.
One of the pangolins released into the wild was born at SVW after his pregnant mother was rescued from the wildlife trade.
"This is the second time we have released rescued pangolins back into the wild. In June 2015, 35 Sunda pangolins were released back into the wild," Director of SVW Nguyen Van Thai said.
"The pangolin is one of the most trafficked animals in the world. The two pangolin species in Viet Nam are facing extinction. The release of these rescued pangolins helps to increase their population in the wild," he said.
The SVW would co-operate with the World Wide Fund organisation and 40 forest protection officials to ensure that the released pangolins were safe in their new habitat, Thai said.
The pangolin is on the list of endangered species that need to be protected as per decree No 160/ND-CP. Thus, all violations related to illegal dealing in pangolins such as hunting, trafficking and consuming of products made from pangolins will invite criminal charges.
VNS