A press conference on a project entitled Predator to support countries fighting crimes against wild animals including tigers, which are in danger of extinction in Vietnam was held in Hanoi by Interpol on November 2.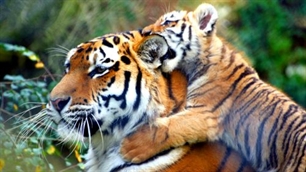 David Higgin, Director of the Interpol Environmental Crime Division, said the project will provide a good opportunity for an exchange of information and experience in preventing the illegal hunting and trafficking of wild animals.
Higgin confirmed that major international organizations such as the US Agency for International Development (USAID), the World Bank (WB) and the Smithsonian Institution will join hands to improve law enforcement and create education programmes to raise public awareness in those countries.
Interpol encourages Vietnam to become more involved in the project and pledges to provide the nation with a number of support programmes.
The sharing of information among the member countries will enable Interpol to establish effective solutions to the issue, he added.
The Interpol official praised the role of the law enforcement agencies in Vietnam in the fight against environmental crimes.
Major-General Vu Hung Vuong, Deputy Head of the General Department for Crime Prevention under the Ministry of Public Security said Vietnam always pays due attention to the protection of the environment and wild animals. Along with bolstering legislation to combine the preservation of forests and tigers, the country will continue to work on programmes aimed at reducing poverty and raising public awareness of environmental protection.
Vietnam also needs support and cooperation from Interpol and other countries especially their neighbors, he added.
There are only 113 individual tigers in Vietnam and most of them are being raised in captivity. Thus, the development and preservation of the species faces extraordinary challenges. Increased participation by Vietnam in the project is expected to help solve the problems.
VOV