VietNamNet Bridge – Saigon Zoo wants to exchange its tigers for animals from other zoos.
White baby tiger works as photo model at Saigon Zoo
Photo: People eager to see newborn white tigers in Saigon Zoo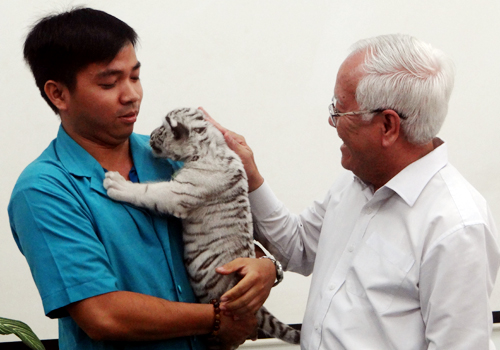 According to the zoo's planning for the 2013-2015 period, the zoo will have 14 tigers, including 10 yellow and four white tigers. However, its currently has 16 tigers, including 11 yellow and five white tigers.
The zoo has reported to the HCM City authorities that its current facilities and fund don't meet standards to raise the existing tigers and animal welfare. The zoo wants to exchange its tigers for other animals with domestic and foreign zoos.
In July, for the first time a pair of Canadian-imported white tigers at the Saigon Zoo gave birth to three healthy cubs. They weighed 3.6-4.1 kilos almost a month after birth. 
In 2009, the parent tigers, named Lem and Luoc, were transported from the Elmvale Jungle Zoo in Ontario, Canada to HCM City. They belong to the magnificent Bengal Tiger breed, or Panthera tigris, which is indigenous to India and Bangladesh, and rarely seen in the wilderness.
The variety, the second largest of all living tiger sub-species, is the only one of the six existing tiger sub-species that occurs in different color variations in the wild, according to cougarmountainzoo.org.
The world is home to only around 2,300 white tigers, most of which have been raised in captivity in zoos.
Linh Nhat