VietNamNet Bridge - The continued water discharge by hydropower plants in China in recent days has caused flooding in the Red River section in Vietnam's Lao Cai province.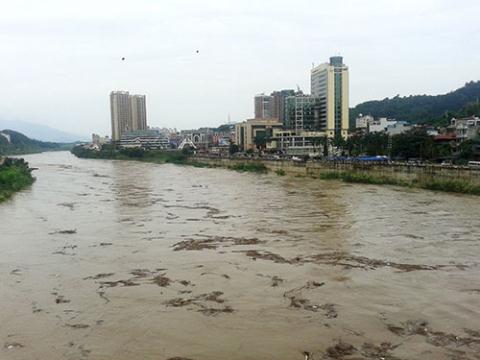 Dao Trong Tu, advisor to the Vietnam River Network, confirmed that the Yunnan provincial meteorological agency reported the water discharge on the upper course of the Red River, 200 kilometers from Lao Cai, starting at 1 am on October 1, at the capacity of 2,500 cubic meters per second. 
Chinese authorities reported the water discharge in advance to the Lao Cai provincial meteorological agency. However, the flood was too big and it caused serious damage.
Tu said there was no stable cooperation mechanism between Vietnam and China, while the two countries only exchanged information.
There are two big Chinese hydropower plants on the upper course of the Red River – Namsa with the dam's height of 80 meters, containing capacity of 260 million cubic meters, and Madusan, 105 meters with 551 million cubic meters of water.
There are also about 20 more dams, small and big, on the river basin.
With such a high number of hydropower plants and dams which contain 49 percent of the Red River's total water volume, it will cause damages to the lower course in Vietnam if water is discharged at the same time. 
Therefore, Vietnam and the countries on the Red River upper course areas need to maintain a reasonable information exchange so that Vietnam can act in a timely way in emergencies.
However, Tu said that, China, which is in the upper course of the river, rarely shares information about the operating procedures of the hydropower plants in China.
Nguyen Nhan Quang, director of the Centre for Promotion of Integrated Water Resources Management (CIWAREM), said the Red River was very steep. Therefore, when Chinese hydropower plants discharge water, the water runs very fast and the water capacity is very big.
The same problem can be seen in the Mekong River Delta in the southern part of Vietnam. The water level in the delta heavily depends on the operation procedures of the hydropower plants' reservoirs on the Mekong's upper course.
However, Mekong River Delta's people worry more about drought than floods. If the hydropower plants on the upper course block the streams and store water, the river will become exhausted.
State agencies are conducting research on the impact of Chinese hydropower dams on Mekong River Delta. Once the research is completed, Vietnam would be able to draw up scenarios for the water level regulation in the Mekong River Delta.
Tu warned that it would be dangerous for Vietnam if China continues building dams on Mekong River. China is not a member of the Mekong River Committee.
Dat Viet