VietNamNet Bridge - If there are no reasonable solutions to adapt to climate change, Mekong River Delta residents will have to scale down their agricultural production in the near future, or go bankrupt because of lack of materials for production.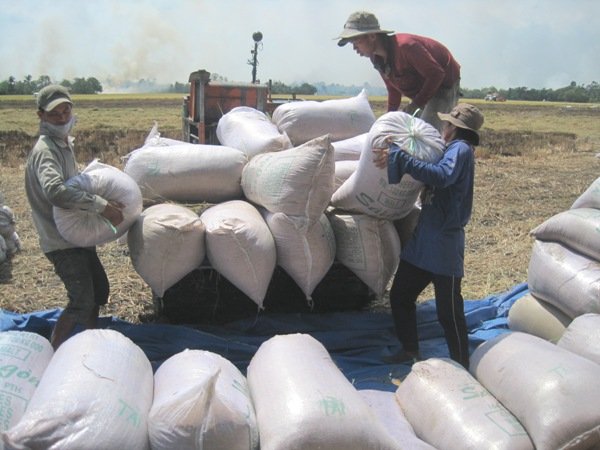 The warning has been repeatedly given by experts at recent workshops and official conferences.
Nguyen Phuong Lam, deputy director of the Vietnam Chamber of Commerce and Industry's (VCCI) Can Tho City Branch, quoted a World Bank report as saying that if the sea water level rises by one meter, the rice field areas in Mekong River Delta would decrease by 2 million hectares in 40-50 years.
"We even will not be able to hatch shrimp, though we think shrimp live in salt water," he said. "The problem is that the salinity in water cannot be controlled or treated."
Also according to Lam, the fact that Mekong River Delta would lose 50 percent of its rice field area in the future means that the rice yield would decrease from 25 million per annum to 12 million.
By that time, Vietnam will be able to put out 6-7 million tons of rice a year, which is large enough to feed Mekong River Delta residents and Vietnamese, while not enough for rice export.
Nguyen Dien, deputy director of VCCI's Da Nang City Branch, warned that climate change would not only affect agricultural production, but also push industrial enterprises to bankruptcy.
"Once production is scaled down, the relevant industries such as mechanical engineering, and pesticide and fertilizer producers will be affected," he explained.
"Meanwhile, farm produce processing will not have materials to process for export because of the lower farm produce output. As a result, they will have to stop production," he said. "This will lead to job cuts and social uncertainties."
Lam of VCCI Can Tho agreed that industrial production would also suffer from climate change.
Once there is a shortage of input materials, processing companies will have to push prices up to scramble for materials. If so, Vietnamese enterprises will not only have to compete fiercely in the world market and deal with trade barriers, but also have to struggle for materials in the home market.
Dien believes that there are two solutions to climate change, which aim to "ease difficulties" and "adapt to new circumstances".
He said to implement the first solution, Vietnam needs to reduce the use of fossil fuel which would help reduce greenhouse gas emissions. As for the second solution, it is necessary to choose the right production models, follow reasonable land programming and shift to other crops to adjust to new circumstances. This would help maintain material sources for the processing industry.

TBKTSG