VietNamNet Bridge - Doubts have been raised about the feasibility of a plan to replace A92 petrol with E5 biofuel, even though distributors have been told to stop selling A92 to focus on E5.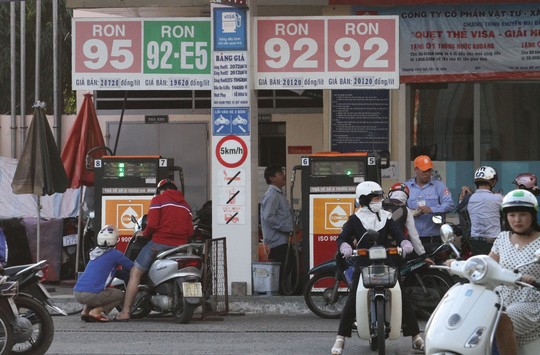 Motorbike drivers that stopped at Hoang Nguyen filling station on Dien Bien Phu street in HCM City on Sunday filled up their petrol tanks with A92 only.
Nguyen Van Huong, the manager of the filling station, said he began selling E5 in 2010, but the sales have been unsatisfactory.
"The sales have been decreasing dramatically recently," he said. "At first, many people tried E5 out of curiosity. But they have stopped using E5 because they do not see any benefits," he said.
H.D.S, the owner of a petroleum product distribution business in district 2, said he wants to use E5 to save money because E5, with the state subsidy, is cheaper than A92. 
Wholesalers have also persuaded him to sign contracts with them, promising big preferences if he buys E5.
However, he still refused to sign contracts because automobile manufacturers did not encourage the use of E5.
"Manufacturers must know if E5 is suitable for their engines. They have not made any official statement about E5," he explained.
Nguyen Van Tam, deputy general director of the Cu Chi Trade & Industry Development & Investment, said he "does not want to sell E5" because of high investment costs and anticipated low sales. 
E5 is a kind of special fuel which requires a specific storage method.
The HCM City Industry and Trade Department, in an effort to popularize E5, believes that once filling stations in the city stop selling A92, vehicle users will have no other choice than E5.
However, analysts do not think this can help settle the problem.
They warned that once A92 is not available in the market, people would rush to buy A95, which would cause uncertainties in the market.
Tam said people would buy E5 if E5 was much cheaper than A92. At present, the biofuel is VND500 per liter cheaper than A92, but Tam said the price gap was not big enough to persuade people to use E5.
"The price gap should be as high as VND1,500-2,000 per liter," he said.
The Vietnam Petroleum Association (VINPA) has proposed to slash E5 petrol to make it VND700-1,000 per liter cheaper than A92 petrol.
VINPA said biofuel was considered "green petrol', an environmentally friendly product; therefore, the government should consider cutting the environment tax on biofuel. 
The tax cut will pave the way for E5 price to go down. At present, every liter of petrol bears VND3,000 in environment tax.
Thanh Lich