VietNamNet Bridge - Extreme weather conditions are forecast to occur from now to the end of the year, according to Le Thanh Hai, deputy director of National Hydrometeorology Centre.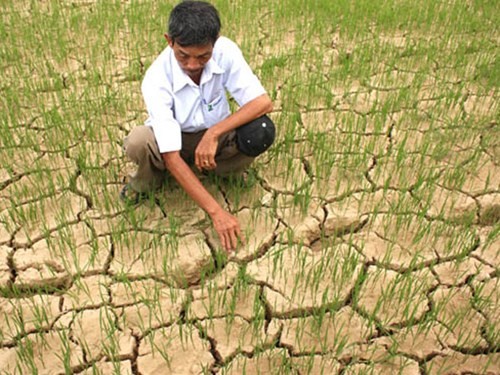 Meteorological forecasting centers in the world all have predicted that the standard deviation of the sea water level in the Pacific central equatorial region, one of the indicators showing El Nino's intensity, continues rising and it may reach the highest peak of 2.1-2.3oC in the last months of 2015.
The forecasts say the 2015 El Nino may have the record high intensity like it had in 1997-1998. It is 90 percent possible that El Nino will last until the end of 2015-2016 winter period, and 85 percent possible that it will last until the end of the spring of 2016.
If this happens, the strong 2015-2016 El Nino is likely to become the longest one of the last 60 years.
Vietnam is forecast to bear six to seven storm and tropical low pressure spells from the East Sea from now to the end of the year, of which two or three storms will have direct influences to Vietnam. 
The temperature in the months from September 2015 to February 2016 throughout the country tends to be higher by 0.5-1.5oC than the average temperature in the last many years. 
The temperature in the winter period will also be higher compared to the past, while spells of cold will not last for a long time.
The central region of Vietnam, which has been suffering serious drought over many months, will receive rains in September 2015 - February 2016, but the average rainfall would be just 50-70 percent of the previous period.
Hai warned that rain deficiency may occur in the rainy season in the central region, which begins in September and finishes in November, especially in the central and southern parts of the central region.
Meanwhile, the rainfall deficiency in the southern region and Central Highlands is forecast to be at 20-50 percent, while the rainy season will finish sooner.
Rain will not only mean big difficulties for agricultural production but also a lack of water for hydropower plants. 
It is foreseeable that the total flow capacity in the Da River basin in September and October would decrease by 25 percent compared with last year's period.
Hydropower plants have been advised to build up reasonable plans to store water to have enough water for turbines before the least rainy season begins in the north.
The flow of rivers and streams will be decreasing gradually in November 2015 – February 2016. The lowest water level in Hanoi may fall 0.3-0.4 meters in February and March 2016.
Dat Viet