VietNamNet Bridge - A number of hydropower plants have been gradually killing the rivers which provide the people's livelihoods. Every river in Ha Giang province has from three to six hydropower plants on it.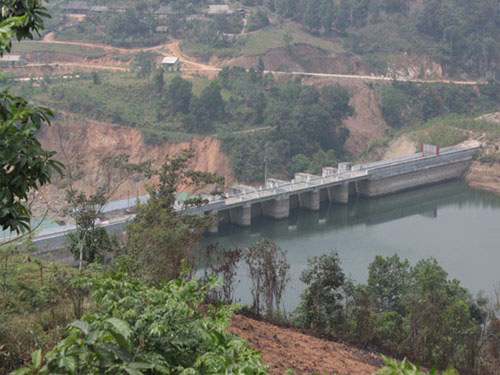 Some rivers in Ha Giang province do not flow any more. Locals say the rivers are dead because of hydropower plants in the upper course.  
In the last 10 years, Ha Giang provincial authorities licensed 72 hydropower plants with a total capacity of 768.8 MW.
In April 2013, after checking the hydropower plant development plan, the Ministry of Industry and Trade (MOIT) decided to eliminate 27 out of the development plan. However, every river in the province still has three to six plants.
The existence of many power plants on short sections of rivers has altered the river currents. The Mien, Nho Que, Gam, Lo and Chung Rivers have been "strangled" as described by locals, as hydropower dams have blocked the flow.
Mien River, for example, has five hydropower plants on it. At least three power plants will be set up on Nho Que River which runs across Meo Vac district. Thick networks of hydropower plants have also been designed for Chay and Chung rivers.
In Vi Xuyen district, the Song Mien 5A hydropower plant has been put into a trial operation. The water reservoir with capacity of millions of cubic meters has been filled. Meanwhile, the infrastructure of the absorption field of the plant has problems, raising worries about public safety.
Hoang Van Nhu, director of the Ha Giang provincial Department of Natural Resources and the Environment, commenting about the Song Mien 5A plant, said that the problems need to be fixed immediately, while the embankments need to be fortified again.
According to the Ha Giang Industry and Trade Department, after 27 projects were weeded out from the power development plan, the province will still have 46 plants, of which 13 are operational, while 8 are under construction, while others have been granted licenses.
However, many investors have been found ignoring regulations.
The investor of the Nam Yen 3.8 MW hydropower project in Che Na commune, for example, has not submitted reports about the project implementation to the Ha Giang provincial industry and trade department since October 2009, when it received an investment license.
Under the current laws, when building hydropower plants, investors have to pay some types of fee, including the forest environment fee. 
The money will be paid to local residents in the upper course from which water runs to the power plants' reservoirs.
However, power generation units in Ha Giang still have not paid the money. 
ANTD