VietNamNet Bridge - After the country's liberation, the total number of tamed elephants in Dak Lak Province, the kingdom of domestic elephants in Vietnam, numbered over 500. At present, there are only 50 old elephants, which are being overexploited to serve tourists.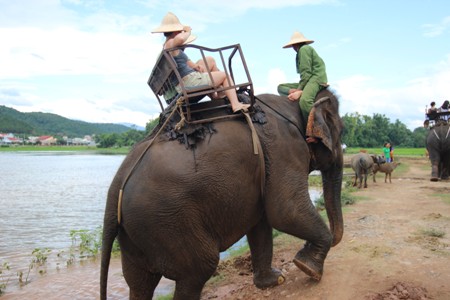 Tamed elephants are the "brand" of Dak Lak because whenever people talk about Dak Lak, they think of domestic elephants. But now the community of tamed elephants is declining. If the tamed elephants all die, what will be the typical image of Dak Lak's tourism?
It is the ugly truth that in the last 10 years, domestic elephants have been overexploited in the tourism business.
Currently, almost 70% of the tamed elephants are over 60 years old and no longer have reproductive ability. Many worry that in the near future, Dak Lak's tamed elephants will no longer exist, although tourists to Don Village are always told about thrilling elephant weddings.
Don Village in Krong Na commune has become the most famous tourist village in the Central Highlands. With so many legends about domestic elephants and mahouts, this village has become a holy land in accordance with perceptions of the Ede and M'nông ethnic minorities.
The sad fact is today, Don Village has no baby elephants.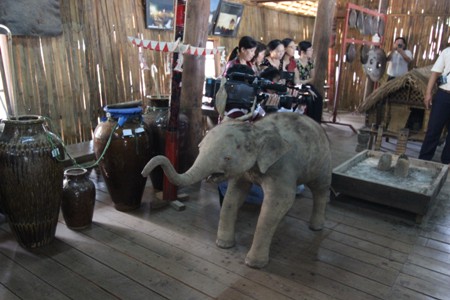 In the past, Central Highlands people paid high respect to elephants. Elephants were their close friends or even their divinity. If they took elephant tail hairs, they had to kill a pig to offer at rituals to apologize to the elephant. But today some people freely take elephant tail hairs to make jewelry for tourists. Some elephants have no tail hairs now. When there are no more elephant tail hairs , they fake the hairs of other animals.
Photo: Elephants never copulate in the presence of humans. In Dak Lak domestic elephants have to serve tourists all day.
Tourists have to pay VND600,000 ($30)/hour to ride an elephant through Lac Lake and Serepok river. As a result, elephants have to work from the early morning until late afternoon. Almost all tours and all destinations in Dak Lak are associated with the elephant.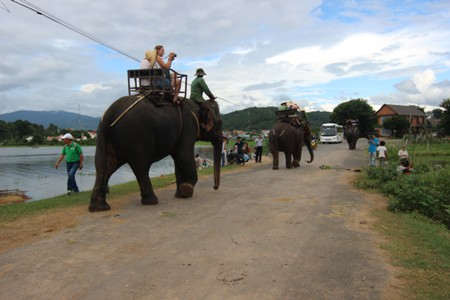 Nguyen Hong Dai, Director of APT Travel, said that the age of elephants is similar to human age. The elephant is the typical image of Dak Lak, and not only Vietnamese but also foreign tourists want to ride an elephant. Thus, elephant preservation should be taken into account.
Another reason why elephants cannot reproduce is the reduction of forest coverage in Dak Lak. Elephants do not have freedom to live by their wild instincts and do not have time for copulation.
So the question returns: What will Dak Lak province and Don Village be without elephants?
Hang Nga