VietNamNet Bridge - Social organizations have repeatedly rung the alarm over the high level of pollution in craft villages. And the government has spent large sums of money to clean the villages but pollution has become more serious.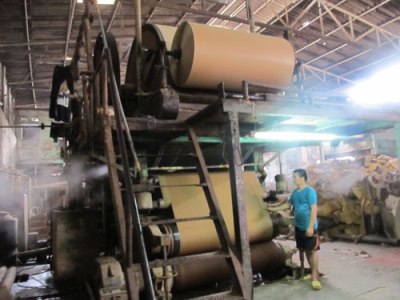 Deputy Minister of Health Nguyen Thanh Long and ministry officials recently paid a fact-finding tour to Dong Mai lead recycling Village in Hung Yen province, the locality well known for the high number of adults and children contaminated with lead.
Of the 317 children in Dong Mai Village who were tested recently, 207 were found as having a lead concentration of 10-44.9 mcg/dl in blood. 
Meanwhile, experiments carried out in Dong Mai Hamlet found that water contained lead concentration 1,000 times higher than the permitted level. 
The soil was found as having lead concentration 10-16 times higher than standard. As a result, the vegetables grown on the soil have lead concentration 1.3 times higher than the permitted level.
Like Dong Mai, all the other existing craft villages throughout the country are facing serious environmental problems.
A 2014 report from the Ministry of Planning and Investment shows that Vietnam had 5,407 craft villages which can be classified into six major groups. Most of the residents in the villages have common health problems.
In food processing, animal husbandry and slaughtering villages, which account for 20 percent of the total craft villages, people mostly suffer skin and digestive diseases. 
Meanwhile, residents in weaving and tanning villages, accounting for 17 percent of villages, suffer from respiratory, mental and digestive diseases.
Scientists have found a high percentage of people catching cancer in metal recycling villages, which account for 4 percent of total villages. 
Nguyen Lien Huong, a senior official of the Ministry of Health, have warned that locals in 85 metal recycling villages, including Dong Mai, in 24 provinces and cities are exposed to heavy metal contamination. 
The villagers are more well-off than others who earn their living with agricultural production, but the environment and their health are alarmingly worrying.
Dong Mai villagers have been earning their living by recycling lead from old batteries collected from all over the country for the last 30 years. 
Van Lam District's Deputy Chair, Nguyen Van Thuy, said 277 people were directly involved in lead recycling, while 13 households recycled lead in their residential quarters. 
The recycling workshops still have not been relocated despite drastic measures taken by the local authorities.
When asked about the damaging effects caused by lead poisoning, Dr. Pham Due from Bach Mai Hospital said, though the toxic land has been replaced with clean land, children born after the replaced land could still have a lead concentration in blood at over 60 mcg/dl. 
Kim Chi