VietNamNet Bridge – The ongoing drought has seriously affected farms and households in the Mekong Delta, causing water shortages for thousands of families in the provinces of Kien Giang, Ca Mau, Ben Tre and Tien Giang.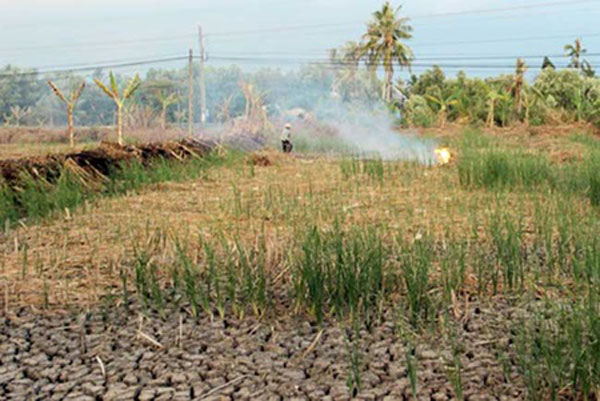 Farmland in Ca Mau Province is drying up and cracking due to the long-lasting drought that has seriously affected farms and households in the Mekong Delta, causing water shortages for thousands of families.
About 400,000 ha of land under agricultural production in the provinces have been affected by the prolonged drought and salt water infiltration, according to figures from the Sai Gon Giai Phong (Liberated Sai Gon) newspaper.
The salinity in the early dry season at estuaries in the Mekong Delta was one to 10g per litre (0.1 to 1 per cent) higher than the same period last year.
In Ben Tre Province, water with 0.4 per cent salinity has infiltrated 50 km deep inland, raising salinity levels to 0.2 per cent in canals in fields along estuaries and the coast.
The acute drought has damaged thousands of hectares of rice fields and other crops in the province.
If the saltwater enters Ba Lai River, which serves as a reservoir for freshwater for thousands of families, it could seriously affect residents of Ben Tre City and Chau Thanh District in the province.
As a precautionary measure, authorities in the province have closed 64 culverts and reinforced embankments along rivers.
They are also monitoring the salinity of water in the river and irrigated rice fields.
Saltwater has also entered the provinces of Soc Trang and Hau Giang, raising salinity levels in rivers.
To protect rice fields, the Division of Agriculture and Rural Development of Long Phu District in Soc Trang Province has closed all culverts along rivers and canals in the district.
The district authority has urged farmers to speed up harvests to avoid further losses as the drought will peak at the end of this month.
More than 5,000 ha of the 13,000 ha of the spring-summer rice crop in Long Phu District have already been harvested. However, 30,000 ha of rice fields in Hau Giang Province could be affected by the drought and saltwater intrusion.
Nguyen Van Dong, director of Hau Giang's Agricultural and Rural Development, said farmers had sowed 40,000 ha of the 75,000 ha under the summer-autumn crop.
Dong said authorities of commune and district levels have been urged to take measures to combat drought and saltwater intrusion.
The director of Tra Vinh Province's Department of Agricultural and Rural Development, Tran Trung Hien, said the drought and salinity intrusion could affect nearly 9,200ha of summer-autumn rice crop, causing a 20-30 per cent loss.
The provincial authorities of Vinh Long have asked authorities at the district level to identify the areas damaged by the drought and salinity and map out plans to respond to the crisis.
They were also asked to focus on supply of clean water for daily activities of residents in the districts of Tra On and Vung Liem.
Le Van Hai, the head of forest management in Ca Mau Province, said recent rain showers at cajeput forests were insufficient to increase moisture in the soil. Instead, the rains make alum, which is needed in cajeput forests, to leak from the soil, further raising the risk of fire.
He said nearly 38,500 ha of forests in Ca Mau Province had been affected by drought and were at risk of fire.
VNS