HCM City residents have repeatedly lodged complaints about the dangers posed by a golf course within the Tan Son Nhat International Airport.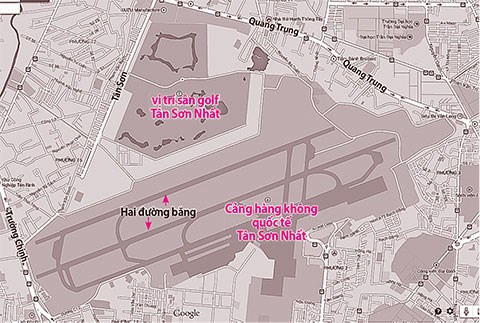 Le Van Sang of Tan Binh District, in a letter to Dai Doan Ket editorial board, wrote that the residents in the Tan Son Nhat Airport area have been concerned about the golf course for many years.
"We fear that the herbicide used by the golf course will pollute the underground water and put local people at the risk of catching cancer," he wrote.
Dr. Nguyen Bach Phuc, chair of HASCON, a science & technology consultancy society and head of EEI, a private research institute, and Dr. Nguyen Dang Diep, Deputy Director of the Center for Agricultural Biotechnology, after conducting thorough research, have also warned that the golf course will have serious effects on nearby residential quarters.
Meanwhile, many local households still cannot access the national clean water supply program and have been using underground water from the wells they dug themselves.
The golf course within Tan Son Nhat Airport covers an area of 157.29 hectares, including 111.59 hectares of weed-grown area. 
To maintain the weed, the golf course developers will have to use 190 tons of pesticide a year.  The large volume of pesticide will be absorbed into the ground and cause serious pollution to a large area nearby.
Phuc said two kinds of weed need to be grown on golf courses – Green and Fareway. Delta-Coated (Controlled Release Fertilizer) is the optimal choice for Green which needs 1-2 kilos per every 100 square meters, once every two to three months.
Fareway is most suitable to Delta-Top pesticide. The weed needs one to two kilos of Delta-Top for every 100 square meters, once a month.
Phuc noted that Tan Son Nhat is the only golf course in the world located near residential quarters. In other countries, golf courses must be located in separate areas, while golf course developers have to satisfy very strict requirements to protect the environment.
Phuc said that golf courses are never located in such an area because the profits would not be big enough to pay for the measures to satisfy requirements.
Sang said he and other local residents the believe golf course could also cause problems for flights at Tan Son Nhat Airport.
It is projected that from 2017 onwards, the Tan Son Nhat Airport will be overloaded because it is only designed to handle 25 million passengers a year. There is a plan to increase the airport's capacity to cater to 40-50 million passengers a year during the 2025-2030 period.
DDK