VietNamNet Bridge - Ca Mau residents are planting trees to reinforce sea dykes to deal with climate change.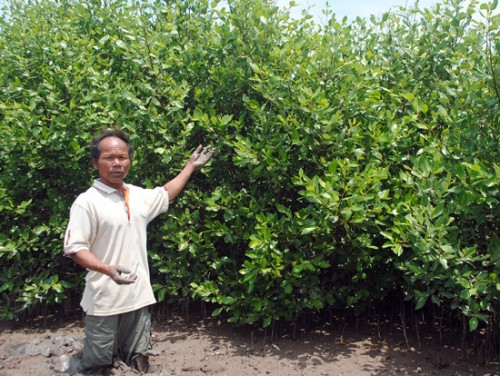 Ca Mau province suffers most from climate change. The locality faces the sea on three sides with a total coastline of 254 kilometers, which is equal to 1/3 of the total coastline of the Mekong River Delta. 
The land erosion tends to become more serious in recent years, which has made the coastal protective forests become more narrow.
The land at the mouth of the My Binh rivulet in Phu Tan Commune of Phu Tan District has seriously eroded. The sea waves now can crash onto the foot of the dyke. 
Many mangrove trees have been uprooted, lying on the ground, while land has been "swallowed" day by day by sea water.
Local residents said the land area would go away with the "sea-gods" soon.
Landslides occur with most of the estuaries. Tran Anh Le, who lives near the Cai Cam sea mouth, said the danger of landslides is hanging over her head, but she still does not know where to go.
Tran Van Tu in Tan Thuan Commune of Dam Doi District said the situation was also very bad on the east coast.
"Locals have been leaving their homes over the last five years," he said. "The situation is better in Dong Hai of Bac Lieu province, where dykes have been strengthened."
A survey conducted recently by the Ca Mau provincial Irrigation Sub-department showed that coastal erosion is serious in four areas with a total length of 40 kilometers.
Ca Mau provincial authorities have been trying to build dykes to prevent sea waves to prevent the landslide. 
However, as the dykes are built with locally existing materials, they cannot bring the designed effects. The dykes can deteriorate within several years of establishment.
Nguyen Long Hoai, head of the Ca Mau provincial Irrigation Sub-department, said the province had been trying to settle the problem with a new dyke system. 
About 300 meters of underground dykes have been built on a trial basis in U Minh District. The dyke can prevent waves from a long distance, while allowing sea water to bring alluvium into the area beyond the dyke, thus enriching the soil.
He said the trial plan has brought initial satisfactory results. Mam trees, or Avicennia spp, have been restored very rapidly, helping repair the landslide and restore the coastal protective forests.
The provincial authorities are now trying to speed up the construction of dykes on the eastern and western coasts, at the most critical points with a total length of 10 kilometers.
Thien Nhien