Another household-raised elephant in Dak Lak Province has died because of overwork. Scientists and environmentalists are concerned about the fate of the remaining elephants.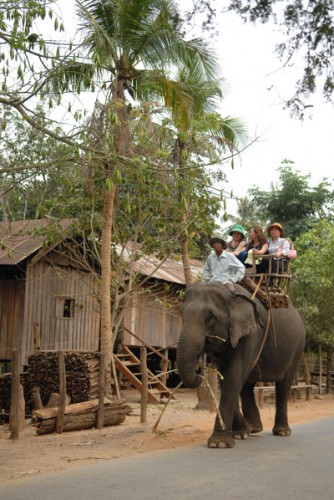 The 40-year-old male elephant has been working for years in the Ban Don tourism area, entertaining tourists by carrying them on sightseeing trips. The Daily Mail, which reported the death, said the elephant died of overwork.
This was not the first time that a captive elephant had died of overwork after carrying tourists in the province. 
Dak Lak Province is home to about 50 domesticated elephants, many of them more than 40 years old. Though the average lifespan of elephants is up to 80 years, environmentalists fear they may die at a young age because of exhaustion due to overwork.
Elephants are listed in the world Red Book as a rare and precious species now in danger. In Vietnam, elephants are listed as "IB", i.e., prohibited for exploitation and commercial use.
Some household-raised elephants in the area have died suddenly for unknown reasons.
Earlier this year, a 36-year-old elephant dropped dead on a mountain while it was looking for food in the forest. Later, a 40-year-old elephant also died. 
Some people said it was poisoned, while others said it had become exhausted because of hard work. 
The director of the Dak Lak Province's Elephant Elephant Conservation Center attributed the death to the changeable weather. 
A female elephant, 35 years old, under control of the Ban Don Thanh Ha Tourism Company, is suffering from a strange disease by eating very little, while its mouth has ulcers and has turned red.
Local experts said the elephant has a "strange disease" and had stopped working. Workers at the nature sanctuary are taking care of it.
Scientists have said the project to protect elephants would not succeed if appropriate agencies do not give support. Current regulations strictly prohibit hunting for elephants in the wild.
Meanwhile, the fertility of captive elephants is limited, partly due to the lack of cooperation of their owners who keep the animals away from each other.
Scientists have also expressed concern about the shrinking of the forest area, which has affected elephants' habitats and made food sources more scarce.
Scientists have repeatedly warned that the magnificent elephants of the Central Highlands province of Dak Lak are currently at risk of imminent extinction due to loss of habitat and illegal hunting.
A report said since 2009, 17 elephants have died because their habitats were destroyed for timber exploitation or agricultural cultivation purposes. Five elephants were reported to have been killed by hunters for their ivory tusks.
Both domestic and international experts have raised concerns that the last surviving elephants may soon disappear in the Central Highlands, and have called for urgent protection by improving their natural surroundings.
Dai Doan Ket