VietNamNet Bridge – "In midnight, if you hear a howl from the deep jungle, you can be sure that a poor animal has fallen into trap," a local man in Da Nang City said. "The ill-fated animal, in its journey to look for food, might have fallen into the trap, which could be made of a brake cable hunters take from a bicycle."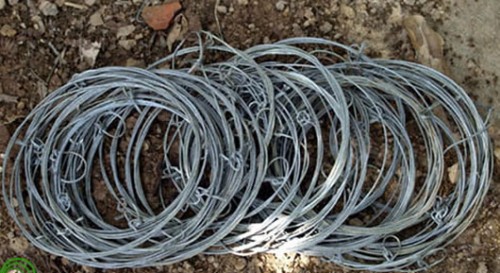 In some cases, wild animals successfully make a "jailbreak" or they are lucky enough to be saved by good people. However, many do not.
Illegal hunters today apply many measures to trap wild animals. They receive a good payment from restaurants or wealthy people to buy wildlife for food or ornamental pets.
Le Van Nhi, deputy head of the Da Nang City Forest Rangers' Unit for six years, said it was easy for hunters to trap wild animals in Son Tran Natural Sanctuary, where animals gather in a small area.
He said it was difficult to catch illegal hunters red-handed, because the hunters usually go into the jungle late at night or early in the morning.
"The deep forest helps them hide from the police and forest rangers," he said.
Nhi said the two inspection tours taken by the forest rangers of the Son Tra – Ngu Hanh Son district in February 2015 alone discovered 739 barbed wire used as traps. Meanwhile, only seven wild animals were rescued in 2014.
With many traps installed everywhere, the rare and precious animals in the Son Tra Natural Sanctuary are in danger.
On February 5-12, several agencies, during inspection tours in Da Nang City, discovered three restaurants buying, selling and processing wild animal meat illegally. 
The inspectors seized and destroyed 21 kilos of animal meat. The restaurants' owners could not prove its legal origin. In addition, 35 animals were found alive in cages.
When asked where the restaurants with wild animal meat were mostly located, Nhi said such restaurants exist in every district. 
"I know that the restaurants are located everywhere. However, it is difficult to catch them red-handed," he said.
Ba Sen Vang Restaurant was once found posting adverts about its dishes made of wild animal meat on a website. They were pulled down after forest rangers discovered the website.
Thien Nhien