VietNamNet Bridge –  The biofuel E5 (ethanol 5 percent) RON 95, used in next-generation vehicles, is still not available in Vietnam, while E5 RON 92 is being sold at hundreds of filling stations nationwide.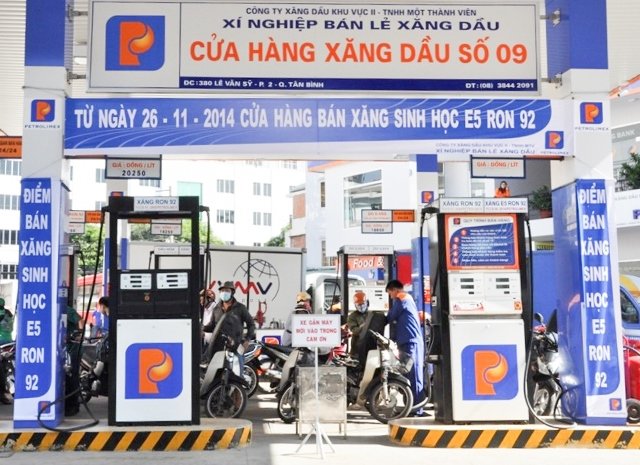 E5 RON 92 was first available at stations in December 2014, under a national program on promoting biofuel for motor vehicles.
Petrolimex, which holds 60 percent of the domestic petrol distribution market, and Saigon Petro and PVOil have confirmed they are selling only E5 RON 92.
Distributors in HCM City said that customers have asked for E5 RON 95 for high-end scooters, such as Honda SH and Vespa Primavera/Sprint.
Meanwhile, salesmen at filling stations of Comeco and SFC said taxi drivers do not want to shift to E5 RON 92 because they have been using A95 for a long time.
Petroleum distributors can mix E5 RON 92 and E5 RON 95. Binh Son Petrochemistry and Refinery Company (BSR) said it could ensure a stable supply of both A92 and A95 petrol, but it has only launched E5 RON 92 on the market.
Some distributors refuse to mix E5 RON 92 and E5 RON 95, saying that it should be done on a trial basis before implementing on a large scale.
According to motor experts, drivers should use petrol of the same levels when shifting to biofuel. For example, if they now use A92, they should shift to E5 RON 92 petrol, while those who use A95 should use E5 RON 95.
Manufacturers also said that users should use fuel with a high octane index for high-end vehicles, such as A95. This kind of petrol is needed for certain vehicle models.
Dau Tu newspaper several days ago reported that Honda Vietnam has received approval from the Ministry of Industry and Trade for the import of 1,000 liters of E5 RON 95.
Honda Vietnam said it needs E5 petrol with HS code 2710.20.00, made in accordance with European standards. However, it cannot find a domestic supply source, and has to import the petrol.
The government decided that E5 biofuels use would be compulsory throughout the country by December 1, 2015. Meanwhile, from December 1, 2014, biofuels must be used by road vehicles in seven provinces and cities Hanoi, HCM City, Hai Phong, Da Nang, Can Tho, Quang Ngai and Ba Ria – Vung Tau.
A similar plan for E10 petrol has also been set up, with the land marks at December 1, 2016 and December 1, 2017.
E5 allows saving fuels, while it can be made in Vietnam, which means that Vietnam would not have to spend foreign currencies to import fuels for domestic consumption. However, the majority of people still mistake E5 for methanol and they think it would be better not to use E5.
TBKTSG