VietNamNet Bridge – Hydropower dams expected to be built on the upper course of Mekong pose the biggest threat to the Mekong Delta.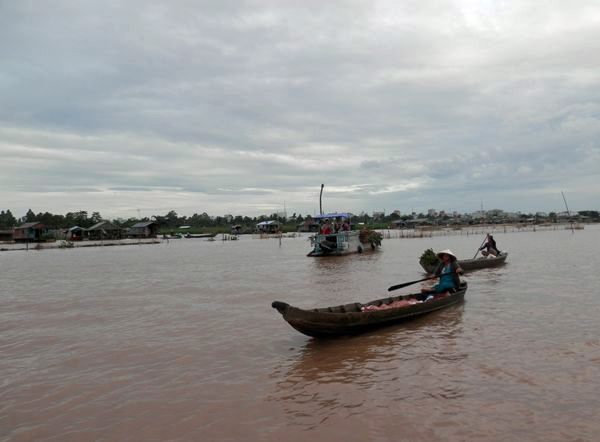 Scientists have said that the Mekong Delta is facing three big problems – climate change, and reasonable economic development program and the establishment of hydropower dams.
They said climate change, which leads to the rising sea levels, can be dealt with since it is a gradual process.In addition, the overheated production development in the area, which has led to environmental pollution, can be settled as well. And the problems associated with three crops of rice (in the past, there were only two harvests a year), which has led to severe floods and salinity intrusion in the dry season, could also be solved.
However, no solution has been found to the biggest problem - hydropower dams. Twelve hydropower dams are expected to be built on the upper course of the Mekong River.
Most recently, the Laos Government in late October 2013, said it would build the Don Sahong dam on the Mekong main stream. The procedures for notification, prior consultation and agreement (PNPCA) have begun.
Nguyen Huu Thien, Head of National Advisory Group on Strategic Environmental Assessment of 12 hydropower dam projects, said if all the dams were built as planned, they would have negative impact on all aspects of the Mekong River Delta.
"The lives of the locals in the region depend on land and water provided by Mekong River. They would be most influenced by the dams on the Mekong's upper course," Thien noted.
"We have not found any solution to settle the negative impacts to be caused by the hydropower projects on the Mekong main stream," Thien said.
All the measures considered now are just "theoretical", and would not be effective, particularly in a tropical region with such a large amount of alluvium and biodiversity like the Mekong Delta.
It is foreseeable that the hydropower dams will prevent alluvium from going to the Delta. In order to increase the fertility of the soil, in theory, it would be necessary to use more fertilizer in cultivation.
However, scientists have found that if only fertilizer were added, without the alluvium, the rice yields would still fall within 10 or 15 years.
Thien said the benefits that Don Sahong are expected to bring to Laos – 260 MW of electricity a year – are too modest compared with the negative impact the dam might cause.
Thien Nhien