VietNamNet Bridge – There are 10,226 sites in 10 northern mountainous provinces at in risk of landslides. The risk is especially high at 2,110 of those sites.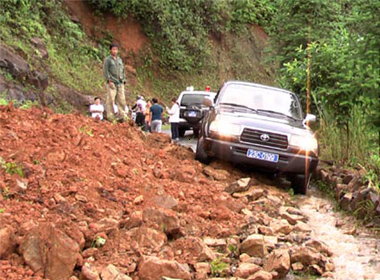 The Ministry of Natural Resources and the Environment (MONRE) recently released the results of a survey on flash flood zoning and landslide mapping in the mountainous provinces of Vietnam.
According to Le Quoc Hung, deputy head of the Geoscience and Mineral Institute, MONRE has been implementing the two projects concurrently since 2006.
The works have been going well as planned. Scientists have drawn the 1:50000 maps of landslide situation, geological structures and rainfall for 10 mountainous provinces, including Lao Cai, Yen Bai, Ha Giang, Tuyen Quang, Bac Kan, Lai Chau, Dien Bien, Son La in the north, and Thanh Hoa and Nghe An in the central region.
As the situation is getting serious with more accidents and heavier damage, more detailed specific maps have been needed to serve state management agencies.
The maps with a 1:5000 scale have been drawn for some special areas that face a high risk of flash floods. The authors have shown the possible scenarios of flash floods occurring at different levels, while predicting the direct influences to the local residential quarters.
These maps will help in giving warnings, especially in the rainy season.
As for the landslide map, the officers from MONRE have completed maps with 1:50000 and 1:25000 scale. The maps show the status of the places where landslides have occurred or may occur, which will be helpful for local authorities.
However, Hung said, these are just the "initial results", before the next research steps.
In 2014 and 2015, the 1:50000 landslide map for some localities will be implemented, while the more-detailed maps will be drawn each year until 2020.
Hung believes that the maps are highly practical. Within the framework of the project on flash flood zoning and warning, for example, the scientists have pointed out 36 areas where flash floods, if they occur, will have direct influences on local residents.
In addition, the landslide map allows people in different localities to discover dangerous areas in their areas.
Giving early warnings is an important work that needs to be done in order to reduce the damages. MONRE and the Ministry of Agriculture and Rural Development (MARD) believe that the most effective method of early warning is community education and community-based calamity control.
The information about the scientific findings has been given to people so as to improve their knowledge about the risks they are facing and heighten their awareness of taking action to protect themselves in calamities.
Hung stressed that the propaganda campaigns need to be carried out regularly, because people may forget about the accidents in the past and return to settle down in the areas where landslides and flash floods had occurred.
Bien Phong