VietNamNet Bridge – Residents of Cu Lao Cham (Cham Isle) have chosen to show their love of their land by refusing to use plastic bags.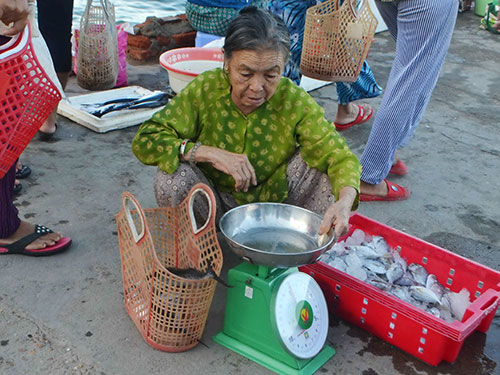 It was dawn, but the seafood market in Bai Lang Hamlet in Cham Isle was bustling with travelers and local residents.
There were plastic baskets in the hands of housewives. They selected fresh fish which had just been brought ashore, put them into the baskets and then left for a nearby market, where they could find pork, vegetables and other food.
The men did not bring plastic baskets, but rather than asking for plastic bags from sellers, they carried things with their hands. A man was seen holding a big fish in his hands and quickening his steps towards his house.
The food shops there were crowded. Customers either had their meals at the shops or took the meals away. However, they had to bring their own bowls or cans to contain food because the sellers would not give them plastic bags.
All of these scenes are common on Cham Isle, where people refuse to use throwaway plastic bags to protect the environment.
Prior to 2009, Cham Isle was flooded with rubbish brought there by travelers. The one-time deserted and clean island became seriously polluted. More and more travelers arrived there and left garbage. The sea waves brought plastic bags and rubbish floating on the sea surface ashore.
"At that time, we all felt ashamed about the rubbish, but we did not find any solution to the problem," Nguyen Van An, chair of Tan Hiep Commune People's Committee, said about the isle many years ago.
"One day, the secretary of the Hoi An City Communist Party's Committee Nguyen Su kicked off the movement to say no to plastic bags," An said. "And the implementation of the plan to stop using plastic bags began".
The first step was the hardest. Local people insisted on using plastic bags because of their convenience. However, they gradually gave up the habit of putting everything into plastic bags.
Nguyen Thi Nghia, a merchant at Tan Hiep Market, said she wraps pork in banana leaves to make it safe and convenient for buyers.
"Plastic bags are much cheaper than paper bags," said Nghia. "Therefore, it costs me more to use paper bags or biodegradable bags. However, I would rather to accept lower profits, if the island can be cleaner, thus attracting more travelers."
The owners of noodle and sugarcane juice also said they had many problems, but they later could find reasonable solutions.
"Customers just need to bring bowls or mess kits to take noodles home," said Tran Thi Ba, the owner of a noodle shop in front of the Tan Hiep Market.
Nguyen Thi Chau, a housewife, said she would rather bring a basket when shopping than to use plastic bags.
"I wrap food in leaves and papers and put into my basket. This allows to keep food safe," she said.
Like Chau, the other housewives now go to the market with plastic baskets given by the local authorities.
NLD