VietNamNet Bridge - The market construction cost of 1m2 is about VND3 million, but it is up to VND9 million for toilets built by the Department of Education and Training of Quang Ngai Province. This project is being investigated.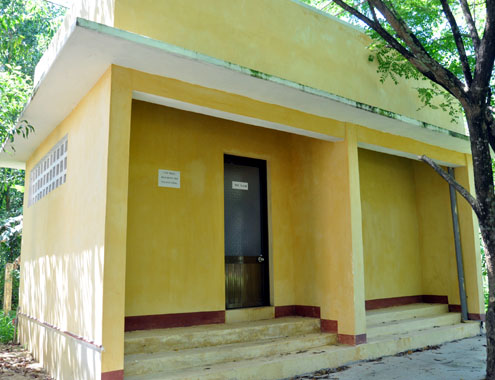 The VND600 million toilet in Long Hiep primary school in Quang Ngai province.
According to the Department of Education and Training of Quang Ngai Province, from 2010 to 2015, general schools in the provinces need 723 water supply works and toilets. Since 2010, 21 water supply and toilet projects at schools have been implemented.
The projects are under the national program on clean water and sanitation in rural areas, funded by the Ministry of Agriculture and Rural Development. The capital for each work is over VND500 million ($25,000). Although school toilets were built in the common design of the Ministry of Education and Training, the cost for design and consultation is declared at tens of millions dong for each project.
Questions against these projects have been raised recently when a newly-built VND600 million toilet in a secondary school in Quang Ngai was seriously degraded. Based on the market price, the toilet is only worth one fifth of the above cost.
Mr. Do Van Phu, deputy director of the Department of Education - Training of Quang Ngai explained that the construction cost of school toilets accounted for only one third of the total investment capital. The remaining amount was for water supply, consulting, geological survey, design, etc.
The public also complained of waste when a primary school in Quang Ngai is reported to have two toilets worth over VND1 billion dong ($50,000) while the classrooms are very old and small.
Phu admitted his "shortcomings" for loose coordination with the school toilet project management unit which led to the waste and promised to better manage the program. Phu also said to inspect all water supply and toilet projects at schools.
Mr. Ngo Huu Dang, Director of Project Construction Investment Board of the Department of Education - Training of Quang Ngai, said: "We cannot judge whether the works (toilets) are cheap or expensive until the inspection is completed."
Le Ha