VietNamNet Bridge – Primary schools all provide intensive English lessons to their students. However, different schools are following different English curriculums, thus making parents puzzled.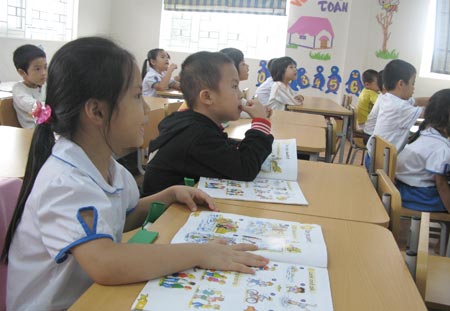 Many curriculums – many choices
Le Thi Ngoc Diep, Headmaster of the Nguyen Binh Khiem Primary School in HCM City, said three English curriculums are running at her school. Those students, who follow intensive English program, have eight English hours a week, including two hours with foreign teachers.
If students only want to learn English with Vietnamese teachers, they would have to pay 50,000 dong a month in tuition. Meanwhile, they have to pay 320,000 dong to attend the classes with foreign teachers.
Besides, students can follow the optional English curriculum with less English lessons and hours. They have to pay 50,000 dong or higher for six English hours a week with Vietnamese or both Vietnamese and foreign teachers.
Especially, students can also register to follow Cambridge English curriculum to be provided by CIE. The courses will be run by foreign teachers, and the tuition is 150 dollars a month.
The Ky Dong Primary School in HCM City is also running three programs at the same time. Besides, it also runs the program designed by the Ministry of Education and Training.
Ky Dong is one of the nine primary schools in HCM City that run the ministry's education in a trial basis. With the program, students can learn English free of charge with Vietnamese teachers. Meanwhile, they would have to pay 70,000 dong a month to learn with foreign teachers.
As such, three or four English programs have been existing, which makes parents embarrassed when registering English study for their children.
However, an official of the HCM City Education and Training Department said that the existence of more than one curriculum is good for students, because they can choose the programs suitable to their capability and parents' pockets.
In Hanoi, according to the city's education department, besides the eight primary schools which are teaching English in accordance with the MOET's program, intensive English lessons have been provided to the students of 300 primary schools in the city.
Where do the English lessons lead to?
The English teaching program applied to primary school students designed by MOET has been implemented in a trial basis since the 2010-2011 academic year.
It is estimated that 2-9 primary schools in every province and city are eligible for joining the program.
Under the program, the English teaching would reach 20 percent of third graders in the immediate time. The teaching would be gradually extended, so that 70 percent of third graders would be able to learn English by 2015-2016, while the figure would be 100 percent by 2018-2019.
Besides the national English teaching program, primary schools can also run intensive English curriculums (4 hours a week). Especially, they are allowed to take initiative in organizing the teaching and learning and choosing suitable curriculums.
However, the "autonomy" given to schools has worried parents, who are not sure if their children would meet any problems when they follow the national programs later after following the optional programs at primary school.
Diep of Nguyen Binh Khiem School said after two years, when students finish optional programs, they would have to follow intensive program or the MOET's national program.
Pham Xuan Tien, Head of the Primary Education Division of the Hanoi Education and Training Department, said that the curriculums to be designed by the ministry would follow closely the curriculums for lower graders.
Compiled by C. V