New graduate Trần Thị Khánh Ly from Đà Nẵng-based Đông Á college was recruited by Japanese Route Inn – a hospitality group – to work in hotel chains in Japan last year.
Students join a practical session in the Innovation Space at Đà Nẵng University. 
Ly and other students from the college who passed interviews will be working as nurses and hospitality in Japan and Singapore.
 "I'm so happy to get a job in Japan just after graduation. Most students are eager to get a job after four years studying, so recruitment events hosted by the college and businesses are an opportunity for us seeking appropriate jobs," Ly said.
"We hope to get experience from working in developed countries like Japan. The practical experience will help us have good basic skills when we return to Việt Nam," she said.
The joint education programme with businesses and international universities aims to give students skills that give them a basic capability to work immediately.
Partners from Germany, Singapore, Taiwan and Japan have agreed to recruit 3,000 qualified Vietnamese students from the college working abroad each year.
"It's more job practical skills education. We offer 50 per cent basic knowledge at class, but three terms of job practice with businesses," said Lương Minh Sâm, vice rector of Đông Á College.
The vice rector said the educational programme focused on four key factors – knowledge, skills, manner and foreign language.
In a latest report, the college said 87 per cent of students found jobs just six months after graduating.
Yumi Masumoto from Route Inn Group said Vietnamese students were capable of working in Japan.
She said this was why the group had recruited more Vietnamese students for its hotels and resorts in Việt Nam and Japan in recent years.
Route Inn plans to recruit graduates from Đà Nẵng to serve its chain of 320 hotels in Japan and Việt Nam.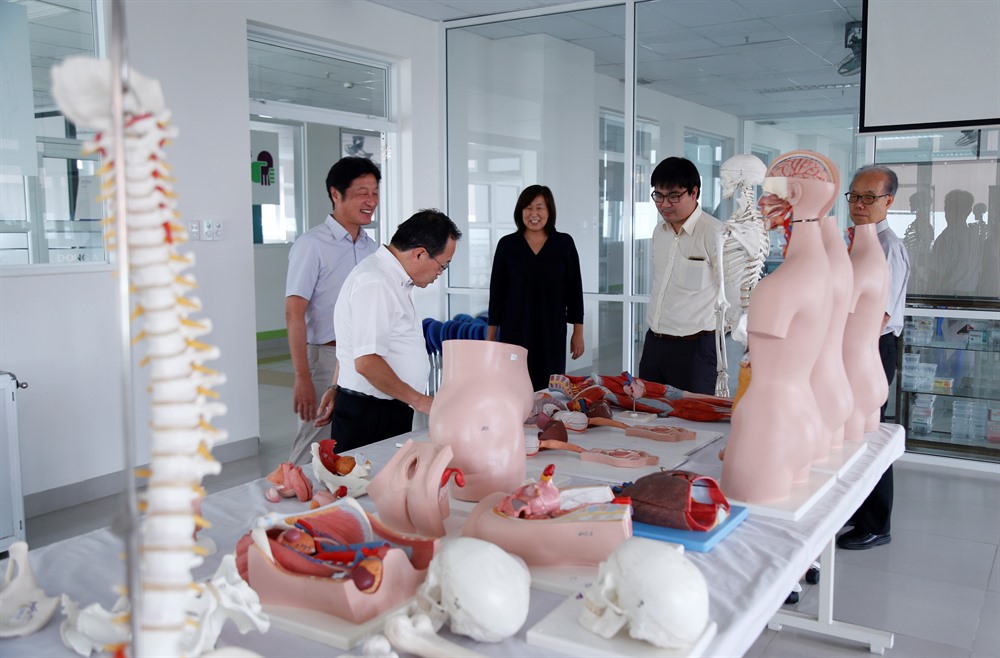 Equipment and facilities for nursing study are available at a laboratory of Đà Nẵng's Đông Á college. 

Fast-track model
Khúc Chung Kiên, from FPT College, said the college had introduced its own fast-track education model that provides Information Technology (IT) students with a four-term course in 16 or 20 months.
"We aim to educate students with a quick course for the increasing human resource demands of IT businesses. Students can enjoy a more practical education and self-educated skills as well as studying at work places with senior IT engineers," Kiên said.
"Students can easily choose the most suitable education period from our course. We offer various opportunities for students to improve their skills and knowledge so they can be successfully recruited by employers," he said.
According to Hoàng Nam Tiến, chairman of FPT Software, the company employs 3,000 people each year to provide enough manpower for domestic and international projects, and it aims to recruit 30,000 in 2020.
The University of Đà Nẵng focuses on the quality of training and education by boosting educational exchanges with international universities.
The university has built up the 'Twinning programme' with 48 universities from China, Korea, Japan, the US, Germany, France and Australia to create more opportunities for students.
In the programme, students can enjoy a three-year education in Việt Nam and one year abroad or a two-year course in Việt Nam and a two-year session in foreign countries.
Rector of Đà Nẵng University Nguyễn Ngọc Vũ said nine of its educational programmes had been recognised by the ASEAN University Network Quality Assurance.
He said the technology and science college, under the university, also gained recognition of education quality from the EU and European Association for Quality Assurance in High Education (ENQA).
Vũ said from 75 per cent to 94 per cent of students from colleges in the university were successfully employed by both local and foreign businesses six months after graduation.
Đà Nẵng University, one of the top 50 universities in ASEAN and a key human resource centre for the central and Central Highlands regions, has developed 13 college-level education centres and trains 90,000 students per year. — VNS