VietNamNet Bridge – After summer school one day my 12-year-old came home to me with a bit of an issue. He told me he wasn't happy with his day in class because new children had arrived.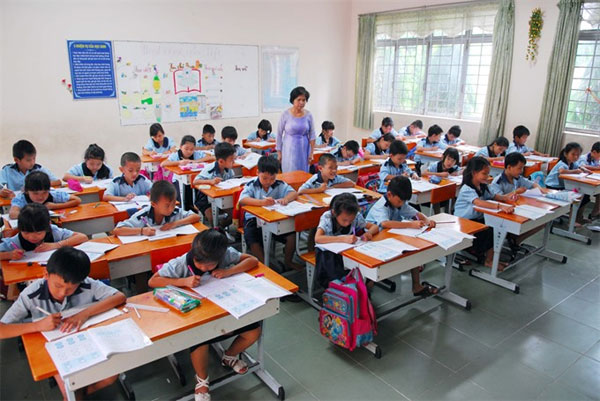 A class at Thai My Primary School in HCM City's Cu Chi District. A standard primary school class is designed for a maximum of 35 pupils. — VNA/VNS Photo Manh Linh
"You will have new friends," I told him, but still he wasn't convinced.
Then I did the maths. There are 58 children in his class. Two new additions make 60.
There are not even enough desks for all the children. At best, three of them have to crowd around one desk. "Sometimes we couldn't even write properly," my child complained.
Overenrolled schools is a serious problem and one that we are seeing more and more. Parents like myself just have to sit back and accept it's a fact of life these days and problems that's hard to solve.
But should we sit in silence? With a class packed to the rafters are our children receiving the best education?
Teachers do a tough job. Increase their class size and the job gets much tougher.
The Ministry of Education and Training (MoET) set the maximum number of students per classroom no more than 35, but overcrowding in schools has been taking place for years, especially at pre-school, primary and even lower secondary education levels in big cities.
Ten years ago, a MoET survey of grade one classrooms in Hanoi, HCM City, Can Tho and Hai Phong, found they were overloaded with students. It also indicated that in certain classrooms three students must share a desk designed for two, influencing their health and studies. What is the real picture now?
HCM City Department of Education and Training's statistics show the city will have more than 1,677,000 pupils this school year, 67,000 higher than last year. Nursery and primary schools will see more new pupils than other grades with 22,225 and 26,812 respectively.
In the 2018-19 school year, Hanoi has 130,000 new primary pupils, an increase of 30,000 over last 12 months.
Many schools in the districts of Hoang Mai, Cau Giay, Thanh Xuan, and Dong Da report that up to 60 pupils have to share one class.
It is worth noting Thanh Xuan Trung Primary School in Thanh Xuan District has to group 69 pupils in a class whereas average number of pupils in the district's Nguyen Trai Primary School is between 64 and 66 or Nghia Do Primary School in Cau Giay District, a class even accommodates as many as 68 kids.
A mother of two school-age children in Long Bien District told me her son's class is so crowded that the first graders have to jostle in the narrow aisles when going in or out of the class. She even has to send her son out for lunch and nap at the school's guard's house nearby with a group of other school kids.
With increasing population, the number of school going children is increasing much faster than the number of schools.
The population of Hanoi is increasing, but the schools are not expanding to meet the demand. New, densely-populated urban zones are being created, but many without the schools to meet the demand.  
This pushes a huge number of students into a small amount of schools. Like in the case of Hoang Liet Ward in Hoang Mai District. The ward is home to 78 apartment buildings, of which some accommodate nearly 1,000 households, but has only two public primary schools.  
According the city's Department of Education and Training, over the past five years 211 schools of all levels were built, fulfilling only one-third of the set target. Some urban areas do not have public kindergartens, primary and junior secondary schools. The department also set an ambitious objective of upgrading and constructing 1,557 schools in the city by 2030 with total budget of some VND74,000 billion (US$3 million).
Building a new school will solve the problem but it's easier said than done as land fund shortage has been blamed for the situation as some district officials confirmed.
Nevertheless, is it really true if we examine the number of high-rises and multi-story residential buildings mushrooming in the cities?
A recent report by the municipal People's Council examining the Hanoi school planning network to 2020, revealed that only one half of the city's urban areas strictly followed their commitments to build public works such as kindergartens and schools.
Let's see an example of Linh Dam residential area in Hoang Mai District. As planned, Bac Linh Dam and Tay Linh Dam apartment buildings would have six schools but the area allocated for the schools remained untouched for 20 years.
Director of Ha Noi Department of Planning and Architecture Le Vinh said the shortage of schools is mainly unearthed in the process of projects' implementation.
"For years, we haven't had regulations requesting investors to build public works as a prerequisite for any construction of apartment buildings."
Failure to strictly supervise the construction of new residential areas by competent bodies is also blamed for the situation.
Death of good schools
The classroom is the heart of any educational system but the death of good schools and the greed of school authorities are seeing classrooms filled to the brim. 
A 2017 study by Maura Shirley "The Effects of Overcrowding on Student Academic Performance in Kentucky High Schools" indicates that overcrowding is considered "an extremely serious issue" that makes students and teachers feel "overwhelmed, discouraged and often disgusted with the space shortage and its consequences for learning".
The Economic Growth, Poverty, and Household Welfare in Viet Nam book published by World Bank in 2004 shows that a lack of school supplies, overcrowding, and low teacher quality has impacts on completion of lower secondary school.
Overcrowding hasn't received the same attention from schools, parents and competent authorities as other problems in education such as violence, extra fees, quality and after-school classes.
Understandably, the overcrowding of classrooms gives educators a headache, but making the classes smaller would force them to refuse admission to more and more young people. And refusing the children's right to education would mean going against the Constitution. That's why class sizes just keep growing.
Saying that, it doesn't mean we can and have to accept such reality. If nothing is done right from now, any efforts to reform the education system will go fruitless.
MoET needs to check and build an entire network of schools taking into account the increasing population and people's demand, especially in fast growing urban areas such as Hanoi and HCM City. Big cities' authorities need to set strict regulations for investors in new urban zones to build schools.
Any project to build apartments that fails to provide infrastructure for public services including schools must be stopped even though the construction is in progress.
Developing satellite cities with a complete social infrastructure system to reduce population pressure for inner cities is also an option that must be taken into consideration.
Many Vietnamese experts say a lack of managerial skills is the country's most serious shortcoming and that because of the decline in the education system, new managers are scarcer than ever. Because improved education system depends partly on recruiting effective new managers, the country is locked in a vicious cycle.
Overcrowding in schools must receive adequate attention and be dealt with so that we will not waste our greatest national resource – the minds of our future generation.
As for my child, he will have to get familiar with a packed classroom. He will have to make room for all the extra students, but let's just hope he's making friends at the same time.
Nguyen Khanh Chi
Source: VNS