Foreign language centers are mushrooming to meet the increasing demand of residents in Hanoi, especially pupils and students.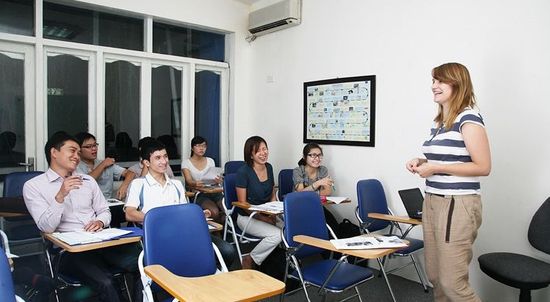 The Hanoi Department of Education and Training has been asked to carry out an inter-disciplinary inspection of foreign language teaching centers in the city.
Hanoi is home to 399 foreign language centers and 27 foreign-invested education and training centers, according to data from Hanoi Department of Education and Training. These centers are employing nearly 3,000 full-time and part-time teachers in the centers, of whom 847 are foreigners. 
However, some unregistered centers have recruited students, even some training centers have carried out fraudulent activities or multi-level business.
According to the Culture - Society Board of the Hanoi People's Council, it has been difficult to review activities of these centers, due to shortage of personnel. The Hanoi Department of Education and Training also acknowledges that management work encountered some challenges, especially in crowded residential areas, because of staff shortages.
Besides, some contents in the legal documents are not clearly guided, or have not covered all objects and contents of practical activities, causing difficulty to management.
To strictly manage foreign language centers, the Hanoi People's Committee has directed the Department of Education and Training to conduct inter-sectorial testing as planned.
The people's committees of districts and towns will direct, review and supervise the operation of centers in the area, resolutely handle cases of violation.
In addition, the Hanoi Department of Education and Training needs to organize a symposium to summarize the activities of the centers, to share their professional experiences and management methods.
Hanoitimes