VietNamNet Bridge – Hundreds of kindergarten, primary and secondary school teachers in Hanoi's Thanh Oai District were shocked to find out that their work contracts will end this September as a result of a streamlining policy being implemented by the municipal People's Committee.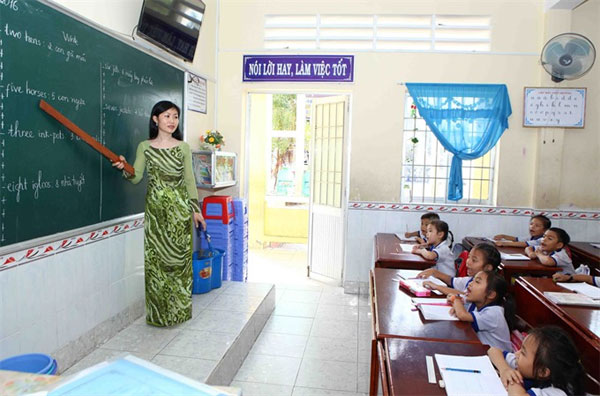 Teachers and students in an English class at Nguyen Van Troi Primary School in southern Ca Mau Province. — VNA/VNS Photo Quy Trung
The decision, announced in the middle of this month, will mean 278 teachers, some of whom have been working for 20 years, will be out of jobs.
According to the decision, the teachers' contracts with the district's People's Committee will end, and they will have to hope that they get one of the limited number or places available at nearby schools.
Le Thi B, a 50-year-old English teacher at Kim Bai Primary School, told Lao Dong (Labour) newspaper that she had dedicated herself to teaching for more than 20 years.
"I don't know where to go now. My 20-year contribution is not recognised, is it?" she said.
For many the resulting financial burden will weigh heavily.
A teacher, who had been working at Cao Duong Secondary School for eight years, was worried about his family's future.
His wife, a kindergarten teacher, will have to leave her job too.
Their wages amount to less than VND5 million (US$218) per month, making it extremely difficult to survive.
"Since the news was announced, we've not been able to sleep. It is a huge burden for us without jobs," he said on condition of anonymity.
According to regulations, teachers have to pass an exam to become official staff at public schools. Otherwise, they can work under short-term or long-term contracts.
Nguyen Tue Son, head of the Department of Home Affairs in Thanh Oai District, said the teachers would be able to sit their exams for public schools. Those who passed would be able to continue working, but those who failed would have to find new jobs.
"We will create favourable conditions for the teachers to find work at private schools in residential areas such as Thanh Ha, where there is a high demand. Four to five private schools have been established there, offering opportunities for teachers," he said.
In the Mekong Delta province of Ca Mau, 1,400 teachers face the same fate this September. According to the provincial People's Committee, their contracts were illegally signed by district authorities without approval from the provincial Department of Education and Training and People's Committee.
Nguyen Tien Dinh, former deputy minister of home affairs, said the fault lay with State agencies, not the teachers.
People's committees were to blame for recruiting too many teachers, he said.
Tran Ngoc Vinh, former deputy head of Hai Phong City's National Assembly deputy delegation, told Lao Dong newspaper that localities should cut personnel and focus more on teacher quality.
"In many localities, good teachers are laid off while underperforming teachers remain in their jobs," he said.
"The teachers will need help from State agencies to find other jobs. Local authorities should train them with the skills to find other jobs or give them money to start new careers," Vinh said. 
Source: VNS