VietNamNet Bridge – There is a special class in Chao Pong Village, Ia Phang Commune in the Central Highlands province of Gia Lai, which all disadvantaged students from the local area can attend for free at any time of day.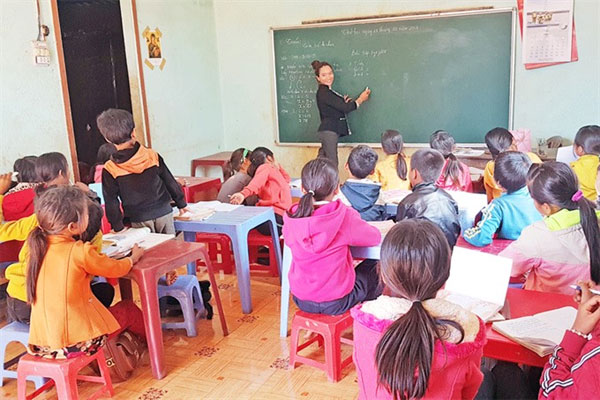 Dedicated: Rmah teaches a free class for up to 65 poor local students twice a day, five days a week. Photo baogialai.com.vn
Surprisingly, the class is managed by a special teacher who might be just as tall as her students. Thirty-year-old Rmah H'Blao of the ethnic Jrai has been teaching local children to read, write and do maths for nearly seven years.
"After finishing the last school year, 19 students from my class received certificates for their good work. I was very happy and proud of them," says Rmah.
Living in a remote mountainous area, Chao Pong villagers lead difficult lives and have limited access to education. They are often too busy trying to make ends meet, so the education of their children rarely receives adequate attention.
Rmah faced similar difficulties, especially when a severe fever at the age of three left her with a disabled leg and made walking nearly impossible. Thanks to the encouragement of her parents, teachers and friends, she was able to overcome her disability and attend school. Her childhood dream was to become a teacher and help poor children from her village learn to read and write.
After graduating from high school, Rmah applied to the Gia Lai Junior College of Education, determined to realise her dream. Afraid that she would not be able to pursue a career in teaching, which is particularly difficult in her mountainous home, her parents advised her to apply for the department of computer science to become an IT engineer.
However, poor health forced Rmah to postpone her studies during the second year at the college, but the aspiration to become a teacher still burned within the young woman. Seven years ago, she asked her parents to build a small classroom in their garden so she could offer free classes for poor local children. They supported her idea.
"My village is still very poor because most parents have to work on the farms during the day. They don't have the time to worry about their children's education. I felt bad for the kids and wanted to share my knowledge with them," Rmah says.
At first, Rmah's father took her to every poor family in the area, encouraging them to send their children to the class. The village chief, elders and some residents also helped out. Slowly the number of pupils began to rise, and at present, there are 65 regular pupils ranging from pre-school age to fifth-graders in Rmah's class.
"I teach the pupils twice a day, in the morning and afternoon, and we take a break at the weekend. In the early days, I had to walk and talk a lot, in addition to revising the material, so I felt a little tired. My legs were very painful at night. But I felt happy as long as the children enjoy my class and learn things," she says.
Rmah pays particular attention to teaching Vietnamese language and basic mathematics. She also teaches them life skills and moral lessons through memorable stories with the hope that they will continue to be interested in studying and pursue their childhood dreams when they grow up.
The inspiration and dedication of their teacher, as well as their own efforts, has helped the children improve, with many becoming excellent pupils.
"I was an excellent pupil in both Grade one and Grade two," says Kpă H'Nhân proudly, a third grader at the Đinh Tiên Hoàng primary school who has been attending Rmah's class for two years.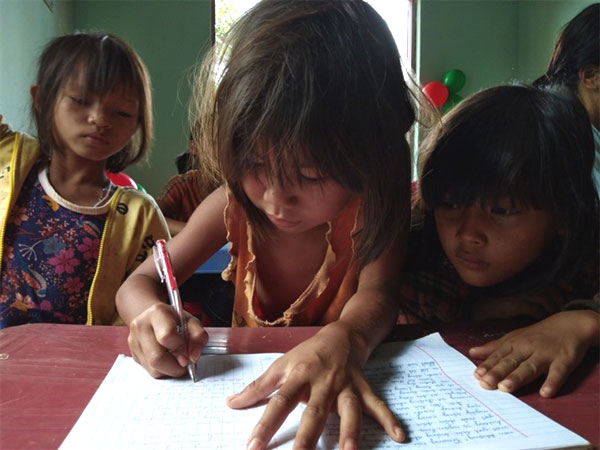 Love of learning: Rmah has inspired her students to take an interest in education, which has not received much attention in this remote highlands village. Photo vietnammoi.vn
Village chief Kpă Djhueng says: "Thanks to teacher Rmah, children of Ia Phang Commune attend class regularly and study better, which makes us villagers proud. She has overcome many difficulties to bring knowledge and even teach proper behaviour to our Jrai children."
Rmah has recently received a certificate recognising her contribution to local education granted by the chairman of Chư Pưh District as well as a certificate for setting a good example to locals awarded by the provincial authority. The awards were an honour for the teacher as well as a tribute to her silent dedication over the past seven years.
Rmah's class still faces many problems, particularly when the pupils are from poor backgrounds and the teacher doesn't charge them for tuition. However, the selfless act has spread to many other kind hearts. Recently, three voluntary groups have visited the class and presented the learners with 50 sets of gifts, each of which included notebooks and pens.
Rmah's childhood dream has now been fulfilled, and she's already looking to the future.
"I hope that all my students become proficient in reading and writing so they can pursue further study and be beneficial citizens to society. I also hope that one day, one of my students will help me continue bringing knowledge to every poor child in Ia Phang Commune," Rmah says. 
by Phương Ha
Source: VNS