VietNamNet Bridge – All secondary and high schools in the country will offer professional career counselling to students that would match employment demands of local businesses by 2025, according to the Ministry of Education and Training.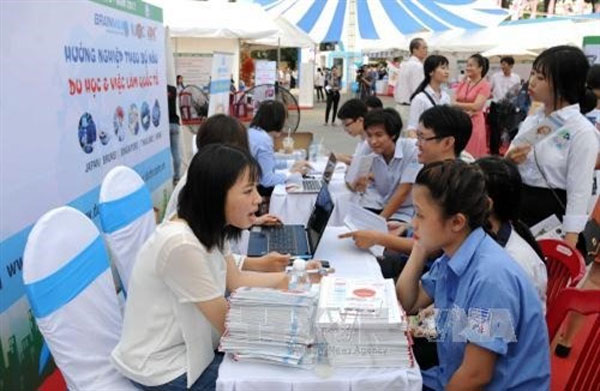 All secondary and high schools throughout the country will be expected to offer professional career guidance to students by 2025.—VNA/VNS Photo An Hieu
The schools will also have teachers trained in offering career counselling by that time. 
The goals are part of a project titled "Education on Career Guidance and Trends for Division of High School Students" in different vocational and education paths, which has been approved by Prime Minister Nguyen Xuan Phuc.  
The project aims to divide secondary and high school students into two tracks, either vocational school or university/college.  
The goal is to have at least 30-40 per cent of high school students study at vocational schools that are classified as primary or intermediate level.
Under the plan, 35 per cent of students in disadvantaged areas in the country are expected to study at vocational colleges (three-year programme as opposed to one or two years at vocational schools) after graduating from secondary schools.
The Government would allocate capital for the project annually to local agencies, while financial sources from the private sector would also be sought.
In HCM City, the city's Department of Education and Training aims to increase the number of secondary school students in vocational schools by 3 per cent in order to reach the programme goal of 30 per cent by 2020.  
According to the Ministry of Education and Training, high schools have not yet focused on offering counselling advice to different groups of students.
In 2006, career guidance was offered in the ninth grade with three classes every month, according to Tuoi Tre (Youth) newspaper. But the figure fell to one class per month in 2008.
In the 2016-2017 academic year, nearly 76 per cent of all graduates from secondary schools nationwide went on to study at high schools.
Only 7 per cent of them studied at continuing education and vocational education centres, while nearly 3 per cent went on to professional education schools and 5 per cent to vocational schools. The rest did not continue school.  
In the 2016-2017 academic year, the number of high school students applying for universities and colleges accounted for 41 per cent of all high school students.
Only 23 per cent of them applied for vocational schools, and nearly 13 per cent for short-term courses at vocational training centres. The rest did not continue and decided to work instead.
A representative of Ly Tu Trong Technical College in the city said that most secondary and high schools provided career guidance for university instead of vocational schools, according to HCM City Giao Duc (Education) newspaper.
Nguyen Thi Ly, rector of Thu Duc College of Technology, told the newspaper that career guidance should focus on the potential social demands in future and the students'capacities so they can choose suitable careers.
Though many teachers at high school acknowledge the importance of career counselling, they cite as hindrances including the shortage of funds, their teaching load, and the pressure of examinations for students in the final year at secondary schools and high schools.
Source: VNS